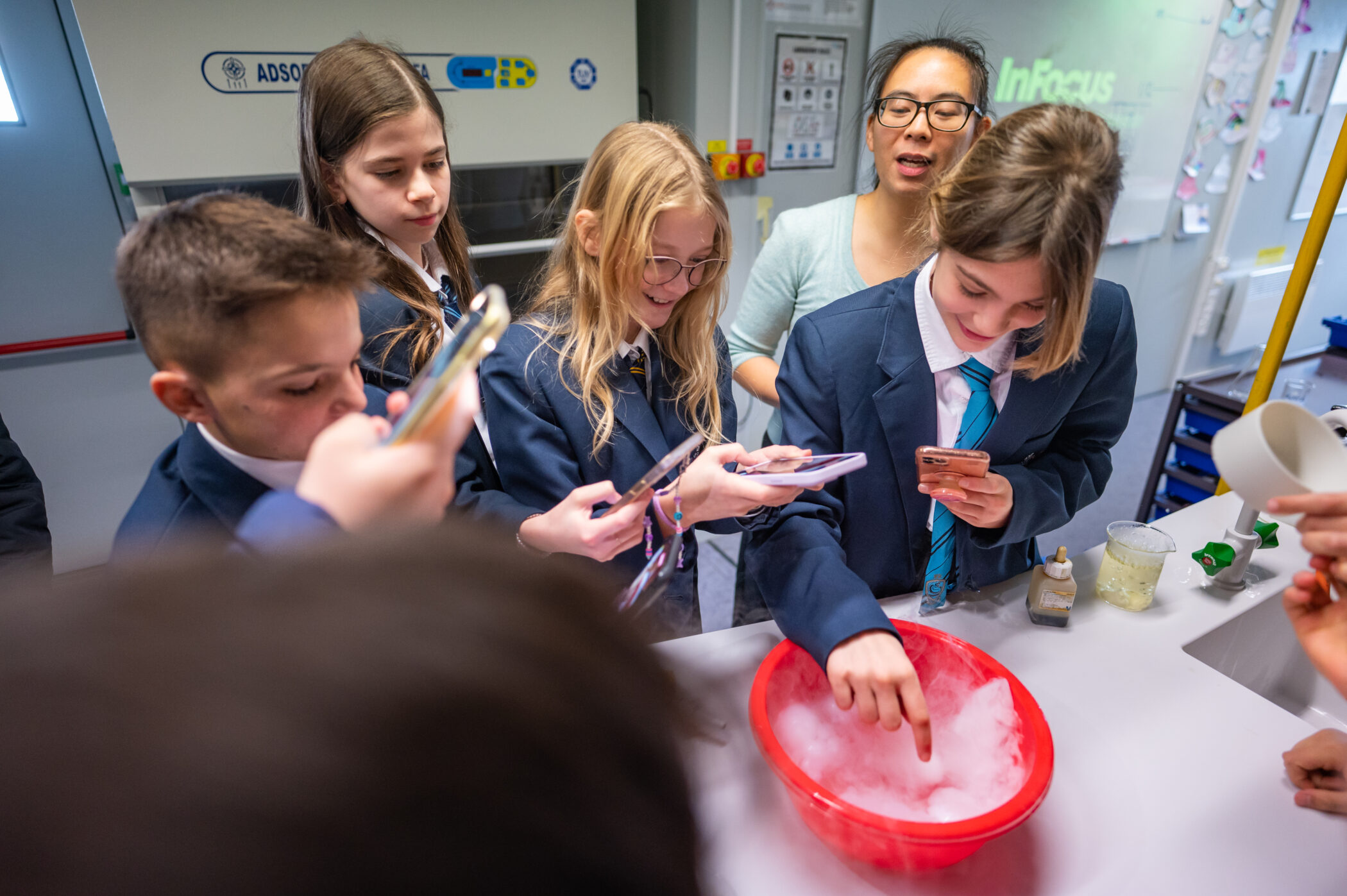 Science
Our Science Faculty firmly believes in a practical, investigative approach to learning, allowing plenty of fun experimental work to engage students. We aim to train students to ask questions and develop a line of enquiry based on observations of the natural world alongside prior knowledge and experience.
We follow the Science national curriculum for England. Physics, Biology and Chemistry topics are taught together either as the Dual Award or Triple Award at Key Stage 4, following on from skills and knowledge learnt during Key Stage 2 and in preparation for Key Stage 5 Sciences.
The study of Science forms part of the core of the British Curriculum. As such, we expect all British School of Bucharest students to study integrated Science at Key Stage 3 and specialised Science subjects (Biology, Chemistry and Physics) at Key Stage 4 and Stage 5. Biology, Chemistry and Physics are taught separately at Key Stage 5.
Whilst examination results are significant; we do not view Science as purely theoretical within the British Curriculum. We understand that students of all ages benefit greatly from regular exposure to experimental work and fieldwork to develop their investigation, analysis and evaluation skills. That's why we teach all our Science lessons in one of four fully equipped laboratories.
Such an approach encourages them to view scientific problems imaginatively and creatively and allows them to appreciate and be genuinely fascinated by the wonder of Science.
Science is an increasingly popular subject choice at IGCSE/GCSE and A-Level. Many students opt for more than one Science at IGCSE/GCSE, increasing numbers of students continuing with Science at A-Level.
Science Faculty
Chris Baker
HEAD OF SCIENCE
Chris studied Environmental Biology at the University of Lancaster, before completing a PGCE and M.A. in Science Education at the Institute of Education (University of London).
He started his science teaching career in East London before working internationally for eight years, including as Head of Year at the British International School Shanghai, and three happy years as Head of Science at BSB between 2016 and 2019.
Upon his return to the UK, he assumed the role of STEM Coordinator, during which he successfully attained an NPQML in Remote Learning.
After four years, being fond of Romania and BSB, Chris rejoined the British School of Bucharest in 2023 as Head of Science. His main teaching interests lie in outdoor education, assessment for learning, and learning through practical experience.
Naomi Bousie
Teacher of Science and Psychology
Naomi Bousie has worked as a Science teacher at the British School of Bucharest since 2015.
She studied Biology and completed her PGCE (Postgraduate Certificate in Education) at the University of Wales, Swansea. She taught Science in the British school system for a few years before moving to Mwanza, Tanzania, to teach Biology and Psychology in an international school.
Chloe Millward
Teacher of Science & Head of Key stage 5
Miss Chloe Millward joined the British School of Bucharest in 2021, and she has been teaching our Secondary students Physics and Science, alongside being the Head of Key Stage 5. She studied Physics at the University of Durham. Afterwards, she worked as an After Treatment Integration Engineer for Cummins Emissions Solutions before returning to the University of Durham to complete her teaching PGCE in Physics and Mathematics. She worked in Middlesbrough, then moved to Lusaka International Community School in Zambia, where she taught IGCSE and A-Level Physics. She was promoted to Pastoral Leader, Years 9 and 10 and successfully ran the Student Council during her time there. She recently completed her MA in Education from the University of Durham.
Philosophy
Every student should be allowed to flourish, and education is the key to that. Education is more than academics and the retrieval of content; it is the ability to problem-solve, critically analyse situations, and enable a person to become the best version of themselves. This can only be possible if students feel supported and cared for within the
school environment. Students should feel supported even when they fail; fostering this resilience can prepare them to take on the modern world. Teachers can have such a profound impact on their students, and I hope my impact on the students at BSB is meaningful.
What I teach my students
I prepare my students for A-Level by exposing them to examination-style questions throughout the Academic Year to help them understand the style and terminology and apply their knowledge at the examination. Besides discussing concepts, I also incorporate practical and hands-on teaching. We also spend a lot of time in class reviewing questions and modelling the mathematical approach to problems, enhancing their problem-solving and critical-thinking skills.
As Head of Key Stage 5, I ensure that all students are supported throughout the year. This last term, we focussed on creating realistic revision timetables that can be followed. Some students make these on paper, and others do this on apps on their phones or using online calendars. The key to making a realistic revision timetable is scheduling time for things other than academics. Going to the movies, reading a book, or seeing friends can significantly improve memory and productivity during scheduled revision sessions. We also have offered study skills and exam stress workshops to prepare groups of students further. I often have one-to-one sessions with students, mentoring and coaching them to ensure they feel prepared for the exams and offer an individualised support plan for each student.
Patrick Sutton-Coulson
Teacher of Science
Patrick Sutton-Coulson joined the British School of Bucharest in 2020 as a Secondary Science Teacher.
He studied Biology and Psychology at Aston University, with a particular interest in microbiology. Patrick worked as a science technician at two schools in London before completing his PGCE and taught at Waldegrave School in Richmond for six years. He enjoys teaching science and the variety of extra-curricular activities that teaching allows for. At all schools Patrick has worked in, he has helped run science clubs, CREST award clubs and taken part in school choirs and drama productions.
Dr Wallace Macindoe Macgregor
Teacher of Science
Wallace brings to BSB eight years of teaching experience at international schools in Ukraine, Egypt, Spain and Russia.
Before starting a career in teaching and obtaining his PGCE from Canterbury Christ Church University, Wallace spent several years in academia and the pharmaceutical industry as a chemist in both research and development fields. As a PhD holder, he has published several articles for chemistry peer-reviewed journals and holds an MBA from Durham University. Beyond the execution of his lessons, it is not surprising that he emphasises how student learning takes on broader significance in the real world, outside the classroom.
During his free time, Wallace enjoys trying and sampling new recipes, learning foreign languages and keeping fit.
Paul Jardine
Teacher of Science
Paul joined the British School of Bucharest in 2023, in the Science Department, as a teacher of Physics.
After studying at St Andrews University, he gained a PGCE to teach in Malawi with VSO. Since then, his experience has included many years in the state sector in Scotland, followed by a spell in an international school in the Netherlands.
He is an avid cyclist and continues to explore Europe on two wheels.
Phil Doganay
Laboratory Technician
Phil Doganay graduated from Istanbul University with a degree in Geology Engineering.
Since then he has lived and worked in Turkey, England, Saudi Arabia and Romania. Before working as a lab technician at the British School, Phil was a member of staff at an international school in Istanbul.
Back to all Faculties