Project Zephyr is one of the most sought-after CCAs at the British School of Bucharest. It's much more than a STEAM course; it's a learning journey for students who want to push their boundaries, learn vital skills, and discover what they want to do in their careers. Project Zephyr gives students the fantastic opportunity to produce an electric vehicle from scratch, fueling the spirit of both collaboration and competition in the process.
Project Zephyr takes students aged 12+ on a discovery journey where they can delve deep into STEAM while learning about business, law, marketing, teamwork, leadership and ultimately, about themselves. It consists of the practical, where they work on their prototypes, and the social, where students and staff discuss their discoveries and progress.
Students craft the car components using metal, plastic, wood, fabrics and other materials utilising professional-grade tools from the BSB Innovation Hub. During this process, they learn to use any substance that suits their needs using lathes, mills, CNC routers and conventional hand tools.
They work in teams, and each group has the freedom to develop its unique car design. The only limitations are the materials, the pre-provided components (such as brakes, wheels, motors and batteries), and the safety measures. Other than those, the sky's the limit.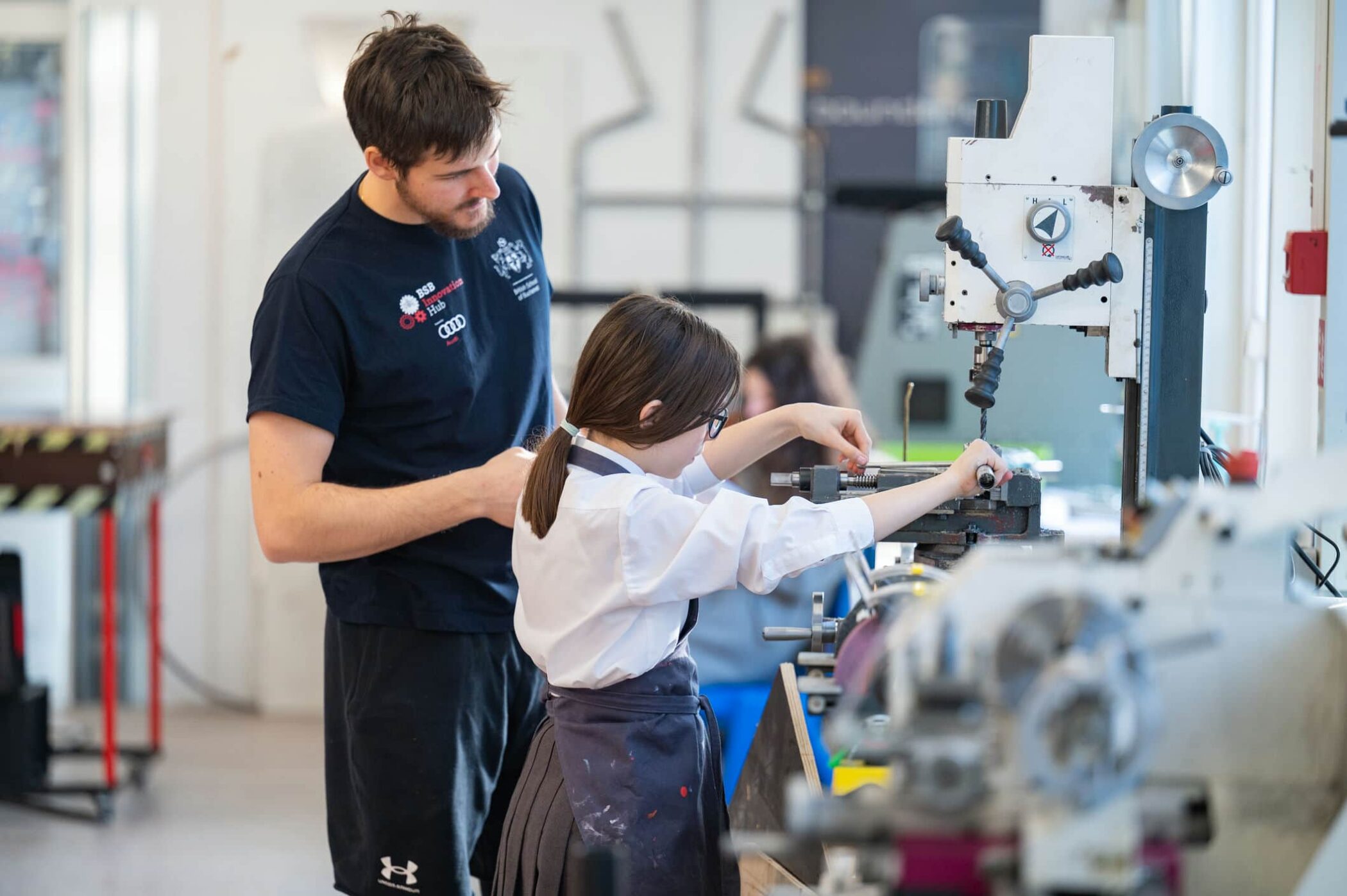 The Project
Part of the objective of Project Zephyr CCA is to produce a car chassis, body and drivetrain. The car's body is manufactured using clay sculpting techniques, composite technology (fibreglass and carbon fibre), and various other industry methods.
The entire experience is student-led. This approach helped BSB students develop skills and vital competencies such as model making, scale prototyping and sculpture used in several high-end industries today.
Moreover, our students' arduous work in the Innovation Hub has been recognised nationally and internationally.
Teams are always encouraged to make improvements, adding whatever they deem worthy to their initial design. With a final product, the teams test and race their cars. Once a team completes their vehicle, the best one is hoisted into the Innovation Hub showroom on the roof of the building, displayed for the next academic year. All other cars are recycled almost entirely, and materials are reused for the next group of students who will experience this one-of-a-kind learning experience that will prepare them for life after school.
The Ultimate Challenge: Lapland Ice Driving
At the British School of Bucharest, organising student-only trips is traditional. However, to broaden the scope of student enrichment, we have taken things up a notch and designed a once-in-a-lifetime trip to Lapland in Winter, where our students get to test the vehicles created in Project Zephyr. Furthermore, it's a unique educational experience centred around climate change. The Arctic is the most rapidly affected region on earth, and they can learn about the science behind the buzzword right on site.
This is an extraordinary experience that few people ever get to try, and even fewer get to try in a vehicle they built themselves. Students must ensure their cars can drive on ice while also ensuring they can practically be shipped to the North and assembled in time for race day.
They will have three challenges:
Fastest lap time
Best Endurance
Longest Drift
They will be responsible for their vehicle's maintenance and proper functioning and may even drift under the Northern Lights if they are fortunate.
If the students are outside of Project Zephyr, they may still try out one of the Project Zephyr vehicles featured in the 2021 Arctic Challenge test days while experiencing the thrill of Ice Drifting with Lapland Ice Driving.