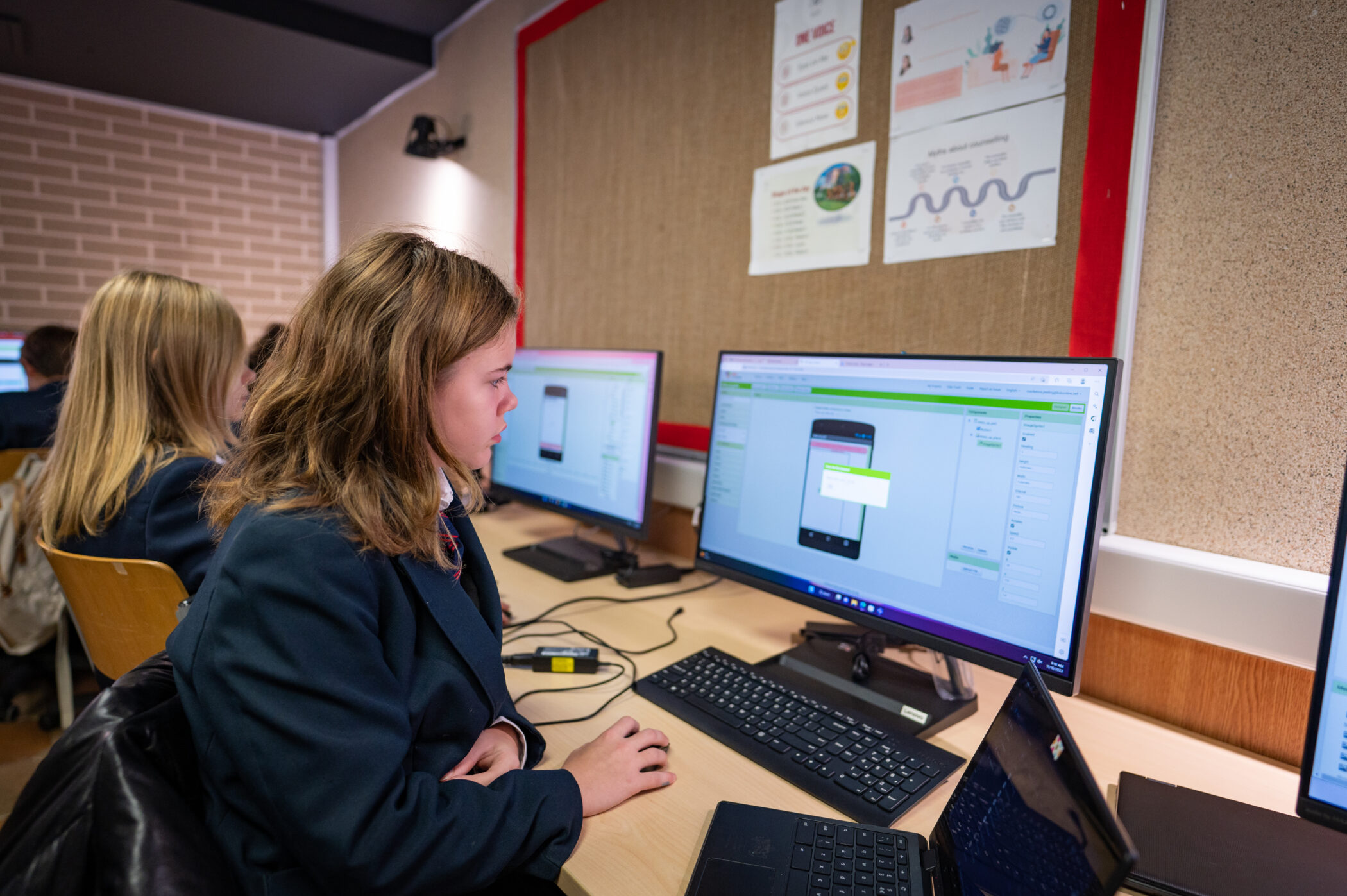 Computer Science
Computer Science is a quintessential STEM discipline, sharing attributes with Engineering, Mathematics, Science, and Technology. It provides pupils with insights into other STEM disciplines and skills and knowledge they can apply to solve problems in those disciplines.
Computer science (CS) education helps students acquire computational thinking, problem-solving, and collaboration skills. Since these skills bring added value in the rapidly changing 21st century, a robust and applied Computer Science education promises to enhance student readiness for the future.
Over the past few years, the British School of Bucharest's approach has been focused on giving students a high-quality computing education. We support them in navigating the digital world by encouraging them to apply computational thinking, creativity, and digital literacy skills.
Computer Science & ICT
Computer Science and ICT play an increasingly significant part in everyday life. The BSB Computer Science department is committed to ensuring that all students can use ICT confidently and safely and have the skills to move from just using ICT to programming computers.
As ICT underpins today's modern lifestyle, all students must gain confidence and ability in this subject to prepare them for the challenge of a rapidly developing and changing technological world.
At the British School of Bucharest, we achieve this through innovation in School. In both Primary and Secondary, students benefit from our well-equipped ICT suites daily. These suites have laptops and Chromebooks for cross-curricular use, interactive whiteboards, iPads and a wealth of educational software and internet-based learning. We control this centrally to filter out inappropriate websites.
All students are taught ICT & Computer Science as a dedicated class while experiencing technology through cross-curricular use in mixed-ability groups, where an emphasis is placed on differentiated, individualised learning opportunities. Students can access various engaging software from Microsoft Office and industry-standard software such as Adobe Dreamweaver and Flash to Fireworks and coding languages where appropriate.
Digital innovation in school
Excellence in education requires that technology is seamlessly integrated throughout the educational programme. Increasing access to technology is essential for the future, and the learning tools of our 21st Century students include tablet and laptop technology.
We lead the way with school innovation by equipping every Key Stage 3 and 4 Secondary student with a Chromebook to use within and outside school. The Chromebook provides tools and resources for the 21st Century learner.
In addition to the ICT suites, students have access to a Mac suite, which is available as a quiet study room or for work on various software applications. We also use this facility for co-curricular activities, such as the popular Movie Making and Film Club.
Providing this innovation in school and immersing students in technology does not diminish the teacher's vital role. On the contrary, it transforms the teacher's role from being a director of learning to a facilitator of learning. Effective teaching and learning with iPads and Chromebooks integrate technology into the curriculum to benefit the students.
Computer Science, Business and Economics Faculty
Stephen Young
Head of CS, Economics and Business & EdTech
Stephen Young works in our Computing department, teaching Computer Science at KS3, KS4 and KS5. He joined the school in August 2020.
He received his BSc honours degree in Information Systems as well as his PGCE at Edge Hill University in Lancashire, graduating in 2001. Stephen has taught in colleges and schools in the UK, Poland, Bermuda and Spain. Before going to University, Steve worked for both the government and the private sector in computing.
During his time as a teacher, Stephen has taught Information Technology, Computer Science and also Design & Technology. He has taught a broad range of topics, software and programming languages over the years. He was also involved in an international astronomy project, has assisted with school science fairs and run an investment club. He is also very passionate about bringing technology into other subject areas and developing cross-curricular activities linked to computing.
Other than his passion for computing, Stephen enjoys going for walks and loves to travel, and he is an avid supporter of Liverpool Football Club.
Gerard O'Hara
Teacher of Business & Economics
Gerard O'Hara was appointed to the British School of Bucharest in August 2017 as an Economics and Business Studies teacher.
Gerard has extensive experience within the British school system, working in a variety of positions as Class Teacher, Deputy Head of Year, Principal Examiner, Head of the Business and Geography Department, and Assistant Head Teacher. Before joining our school, he held the position of Deputy Head of Curriculum at the Cairo English School for three years.
Trevor Knight
Teacher of Business & Economics
Trevor Knight has been a qualified high school teacher since 2006. Trevor graduated from Southern Cross University (Queensland, Australia) with a post-graduate degree in secondary education in Human Society and its Environment.
Trevor's first posting was in Hanoi (Vietnam), then he went back to Australia teaching in the public system for a couple of year and then moved to Bucharest, then Cluj, Buenos Aires, Lima, Milan and finally back in Bucharest.
Trevor is passionate about education and he expresses this passion in all his lessons, engaging the students with real life experiences and their links to the unit topic of the day.
Prior to being an educator, Trevor's experiences have been working for the Australian Government as a statistician and prior to that working for a brewery in Lima, Peru in the finance and logistics sections.
Outside of School, Trevor is a qualified gym trainer, group fitness instructor and a musician. He is passionate about football and road cycling too.
Starting 2022, he joined the BSB Computer Science, Business and Economics Faculty, as Business and Economics Teacher.
Back to all Faculties