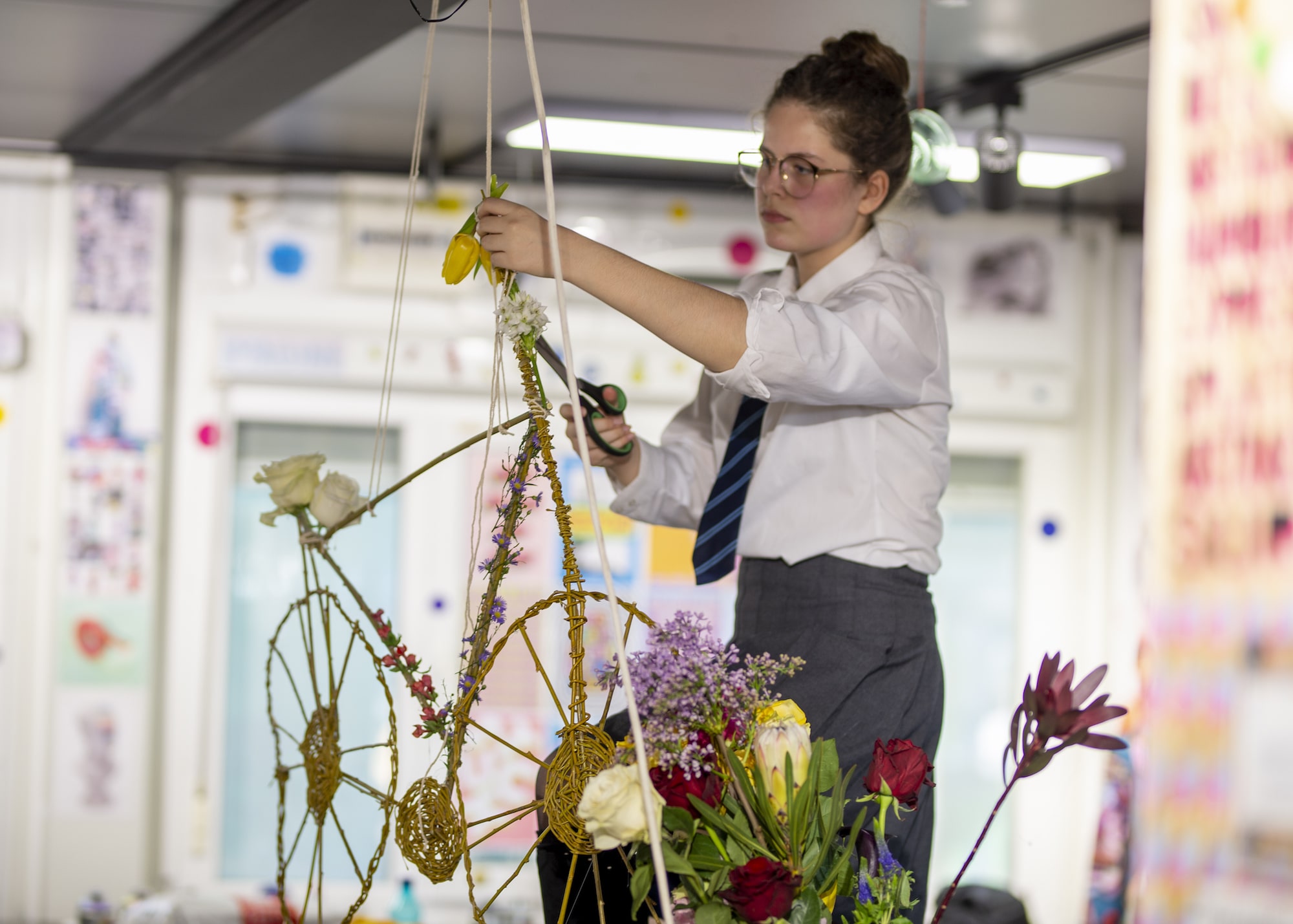 Creative Arts
The Creative Arts & Design Technology Department's philosophy is to help students develop their creative thinking and crafting skills to support them in pursuing careers in a design-related discipline.
Curriculum
Visual Arts
Our specialist Art tutors teach and mentor students who wish to explore visual arts, photography and design.
All students in Key Stage 3 study art at BSB and as an option subject in Key Stage 4 and Key Stage 5.
The emphasis is on student-generated ideas and projects as part of the regular curriculum. As students move through their IGCSE/GCSE course, they are encouraged to find their own identity through their work. The results, therefore, become increasingly personal.
Design Technology
Studying Design Technology (DT) is a creative process involving applying knowledge and skills through designing and making products. It is a subject in which elegant ideas lead to outcomes of flair and creativity. The British School of Bucharest students combine practical and technological skills with creative thinking to design and make innovative products that meet human needs. The Creative Faculty vision empowers students to be responsible, self-directed and adaptable learners.
BSB – Designed for creativity
The British School of Bucharest has three well-equipped Art Rooms where students can learn and create Art throughout the day. Light, airy and very comfortable to work in, these inspiring rooms are available to students throughout the school day.
The creativity on display in these Art Rooms, from pupils of all ages, is a true reflection of the immense artistic talent within our school.
The school's large and spacious DT workshop is fully equipped to promote insight into the design process and develop essential design skills. We maintain a good balance for pupils between traditional handwork skills and using computers to design and manufacture. Students learn to effectively use the latest CAM (Computer Aided Manufacturing) technology within our DT facility, including a laser cutter, a CNC router, a vinyl cutter and 3D printers. Combined with our range of modern computer-controlled machines for routing, milling, turning, and utilising more traditional wood materials and plastics, students learn practical skills through collaboration, communication and reflection.
Creative Arts Faculty
Mark Williams
Head of Creative Arts
Mark Williams joined the British School of Bucharest in 2006 and is now Head of the Creative Faculty.
Mark graduated with a BA in Fine Arts from the University of Exeter School of Art and Design, followed by an MA from Chelsea School of Art and a PGCE (Postgraduate Certificate in Education) from Brighton University. He previously worked as an exhibitions coordinator and curator, before becoming a freelance illustrator. Now a teacher and inspiration for his pupils, Mark continues to create art. His work has been published in many magazines and books. He is represented by Olivia Connelly in England and exhibits work at various venues and galleries, in both London and Bucharest.
David Burke
TEACHER OF DT
David received a Bachelor of Science in Product Design and Technology from the University of Limerick in 2009 and completed his PGDE (Postgraduate Diploma in Education) in Secondary School Teaching from Moray House School of Education, University of Edinburgh in 2016.
David has worked in Scotland teaching DT (Design and Technology) on the remote island of Shetland. He has also worked at the Prague British International School. He joined BSB in 2023 coming from the British International School Hanoi where he taught STEAM and Design and Technology for three years.
David is a keen collaborator, having previously worked with other departments within the school to promote DT as a subject and a creative career choice. He hopes to be able to share his passion and enthusiasm for DT, as well as his joy of extracurricular activities such as hiking and cycling, with the students here at BSB.
Siobhan Williams
Teacher of Art and DT & Head of KS 4
Siobhan Williams studied Graphic Design at the University of Teesside before gaining a PGCE (Postgraduate Certificate in Education) in Design & Technology from the University of Sunderland.
She worked in the UK teaching Art, Design & Technology for four years while also studying for a Postgraduate Diploma in Education. Siobhan's first international teaching position was at Haileybury Almaty School in Kazakhstan, where she spent five years teaching Art.
Michael Nixon
DT Technician
Michael joined BSB in 2023 as DT Technician. He has transitioned into education 15 years ago after earning his PGCE in education. He is also a registered UK paramedic with 30 years of NHS prehospital emergency care experience.
In the past, he worked as a Learning and Development manager in the largest UK Ambulance Trust, leading regional teams of clinical educators and overseeing the coordination of clinical and non-clinical education delivery to thousands of emergency medicine professionals. Additionally, Michael led the response coordination and upskilling of dispatching teams during the pandemic outbreak in the Southwest of the UK.
Beyond work, Michael is a certified gym instructor, personal trainer, and accomplished ultrarunner, conquering races like the Marathon des Sables and Ultra Race Romania.
Back to all Faculties