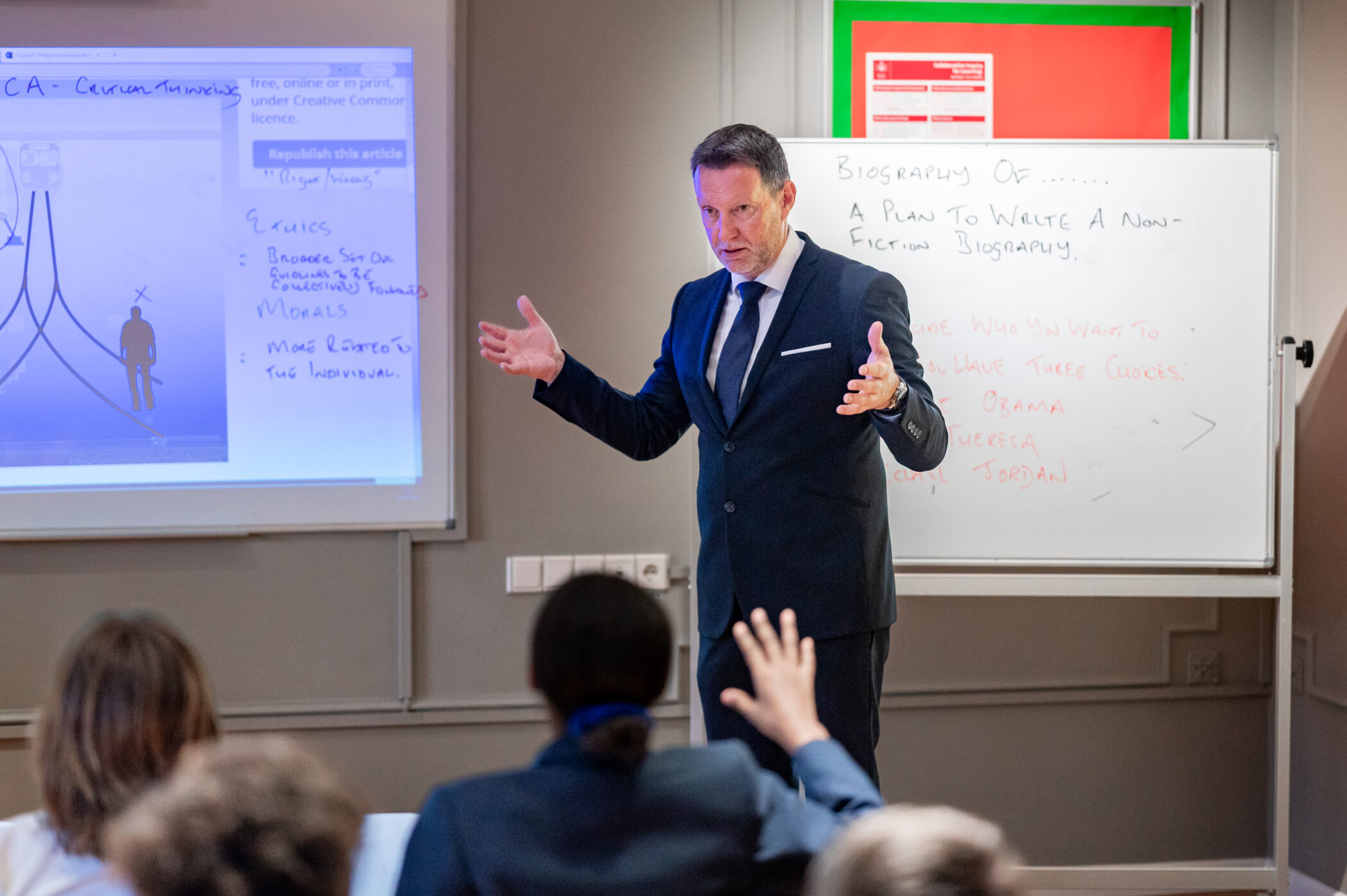 MFL
Learning to speak and understand a foreign language provides a valuable educational, social and cultural experience and encourages students to embrace a global outlook. The skills to speak a foreign language equips students for fulfilling careers with an international dimension.
Modern Foreign Languages (MFL) enriches the British school curriculum by promoting initiative, confidence, creativity, intercultural sensitivity and independent learning. The languages we offer are French, German, Spanish and Mandarin. MFL is a compulsory subject from Year 3 to Year 11 (Key Stage 2 to Key Stage 4), and students can choose to study French, German, Spanish or Mandarin at IGCSE/GCSE and A-Level.
We also fully support those students with a strong knowledge of languages other than English, enabling them to sit international examinations to certify their proficiency. The British School of Bucharest students have recently successfully studied IGCSEs/GCSEs and A-Levels in Portuguese, Arabic, Russian, Greek, Italian and Japanese.
In Secondary, students learn to manipulate the language and go beyond mere imitation towards more natural use. Students learn through role-plays simulating real-life situations, research projects, presentations and interviews with native speakers. For example, cross-curricular links with other subjects in the British school curriculum (History, Art, Geography, Music and Mathematics) reinforce the relevance of foreign languages. We focus on enabling students to take authorship of their learning by developing independent learning skills and being aware of language-learning strategies.
Events outside the classroom highlight the intercultural dimension of language learning. Every year we organise trips abroad to provide students with an excellent opportunity to experience foreign languages `in action`.
MFL Faculty
Elisabeth Citron
Head of MFL
Elisabeth Citron is a French and Italian graduate of Jesus College, Cambridge.
Having joined the British School of Bucharest in 2012 as a Modern Languages teacher, she is now the Head of the MFL Faculty. Following graduation and a PGCE (Postgraduate Certificate in Education), Elisabeth spent many years teaching French and German in a highly selective grammar school in London, where she was also Coordinator for Key Stage 3 and Language Exchanges. Elisabeth moved abroad with her family in 2006 to work at Harrow International School in Bangkok, Thailand, where she spent seven years teaching both French and English as a second language.
Miriam Collinson
Teacher of MFL
Miriam Collinson joined the British School of Bucharest in 2018 and is a teacher of MFL.
An Exeter University graduate, Miriam studied French and German before qualifying as a Modern Foreign Languages teacher at Oxford University. She taught French, German and Spanish for many years in two different UK schools following the British Curriculum, where she also was Head of French and Head of Faculty. Before joining our school, Miriam spent two years as a French teacher at Lincoln Community School, an international school in Ghana.
Kim McCallum
Teacher of MFL
Kim McCallum joined the British School of Bucharest in 2019.
He studied Spanish and French at London South Bank University and gained his PGCE certificate in 1997. He started his teaching career at the Repton School, Derbyshire, where he introduced Spanish to the school's curriculum and was the French and Spanish teacher for 20 years.
Helen Noble
Teacher of MFL
Helen Noble is a German and French graduate of Girton College, Cambridge.
After an early career in the British Diplomatic Service, she gained her PGCE (Postgraduate Certificate in Education) with the Open University. Since then, she has taught German and French in three selective and popular schools in London and Guildford, including Kings College School, Wimbledon. She has also taught German and English, as an additional language, in international schools in Athens and Berlin and lived for 8 years in Germany and Austria.
Dorothea Draser
Teacher of MFL & KS3 MFL Coordinator
Dorothea Draser joined BSB in 2006 as a teacher of German and Spanish.
She graduated from Heidelberg University (Germany) with an MA in German, English and Spanish languages and literature. She studied abroad at Universidad de Chile (Chile) and University of Augsburg (Germany), as well as in Babes Bolyai University (Cluj-Napoca, Romania). She gained her PGCE (Postgraduate Certificate in Education) from Sunderland University. She believes in lifelong learning and has expanded her knowledge of languages by learning French, Greek and some Mandarin Chinese as a hobby. She led the school's MFL department for several years before going on maternity leave.
Rocio Marti
Teacher of MFL & Primary MFL Coordinator & SEN Assessor
Rocio Marti Alarcon introduced Spanish as a Modern Foreign Language subject to the British School of Bucharest when she joined in 2008.
She has previously taught in international schools in Madrid, Spain, where she is originally from, but is now proud to call Bucharest home, where her eldest son was born.
Paloma Vivar Duran
Teacher of MFL
Paloma Vivar holds an MBA in Business Administration from the University of La Salle in Barcelona and a Master in Advanced Teaching Skills from the Universidad Camilo José Cela in Madrid.
She is a certified DELE examiner by the Cervantes Institute and Executive Coach, specialising in teenagers and families.
For the past 19 years, she has dedicated her professional career to private companies in management positions within the financial and management control departments. For more than five years, she has been teaching Economics and Spanish, as well as emotional management and guidance of students through coaching through various programs.
Tianxiong Zang
Teacher of MFL
Tianxiong Zang joined the British School of Bucharest in 2023 as a Teacher of Mandarin.
Zang studied at the Beijing Language and Culture University (BLCU) for his master's degree, focusing on Master of Teaching Chinese as a Second Language. Zang was part of several programs, including the "International Chinese Volunteer Teachers" project. He started his teaching career ten years ago, and he was a Mandarin teacher at the Confucius Institute of Bucharest from 2015 to 2017 and from 2020 to 2021.
Back to all Faculties