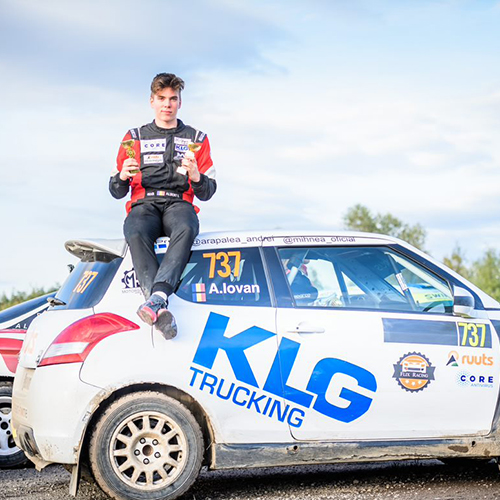 Albert, on the podium at the National Parallel Slalom Championship
On September 24, 2022, the engines could be heard roaring to the maximum, as it was the sixth stage of the National Parallel Slalom Championship. Albert, our Year 11 student, took part in the championship held in Sibiu, following his long-time passion for motorsport.
The Romanian Motorsport Federation organises, manages and promotes motorsport in Romania. Since 2009, the federation has been paying more attention to the discovery of young talent by proposing the granting of facilities and the lifting of the ban on juniors under 18 years of age from participating in motorsport competitions.
Albert made it to the podium at the last stage (the sixth one) of the 2022 season in this championship, thanks to his determination and talent. He finished in third place twice: individually in the "Junior 1.6" class, where he finished 3rd out of 7 places, and in the "Junior Open" class, where he finished 3rd out of 17 places.
Thirty-six adults and juniors participated in this championship, and Albert Iovan finished 6th out of 36.
In the overall 2022 rankings, where all points from the six stages were counted, Albert finished 3rd out of 23 places in the "Juniors" and 5th out of 60 places in the "Open" category, where adults also took part.
We are incredibly thrilled with what he has achieved.  We wish him every success in his future competitions. Congratulations, Albert!
October 2022
---
Please note that the British School of Bucharest is not responsible for the content on external pages and, as usual, we advise you to monitor your children's online activity.