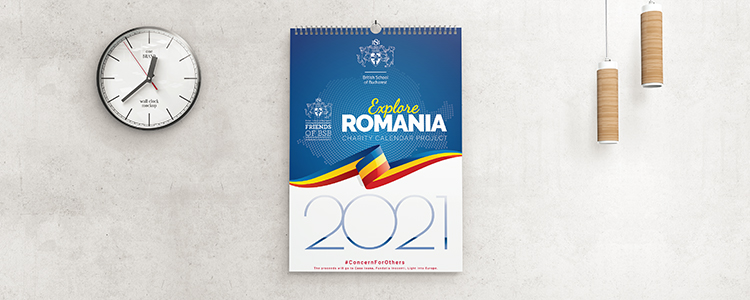 The Gift of Giving at Its Best
It's the most wonderful time of a very challenging year, but with the festive season soon upon us things are starting to look merry and bright. Our Christmas spirit grows day by day, especially when we are witnessing such extraordinary acts of generosity, like the launch of the `Explore Romania` calendar, a fundraising initiative put together by our fantastic FBSB and Events Team.
For this calendar, they have mobilised the entire BSB community to capture the beauty of Romania and its fascinating contrasts. Students, parents and teachers sent gorgeous shots of the natural landscape, fairy tale palaces, charming cities and other hidden gems, corresponding to the 12 calendar themes.
The pictures were carefully analysed by the Photo Selection Committee, who spent many hours selecting the most suitable for the theme of each month. After that, the BSB Events and Marketing Teams generously offered their time to help in designing and producing the calendar.
Through this incredible endeavour, not only do we celebrate a country that has so many things to offer but we also show our concern to the needs of others. Therefore, we will donate all the calendar proceeds to three of the partner charities that we support. Casa Ioana, who works with women and children experiencing domestic violence and family homelessness. Fundatia Inocenti who improves the lives of children, families in need and preventing child abandonment. Light Into Europe who provides support and guide dogs for the blind and deaf.
For this fantastic project, we received a commendation from Her Imperial and Royal Highness, Maria Magdalena Holzhausen, Archduchess of Austria.
'My heartfelt gratitude to the BSB community, for donating their time and effort and for the work they are doing to improve the lives of so many around while celebrating all there is to cherish in Romania'.
Our Headmaster, Mr. Philip Walters, lauded our grand and generous gesture and the efforts that went into this initiative. He also added:
'We hope that you enjoy these images of the wonderful country we all call home, whether that be for a few months, years or for much longer. We are extremely proud to be associated with our partner charities and know that our support via this project will be useful in their ongoing and highly valued work'.
Now, we encourage you to buy this incredible calendar to complete the marvellous circle of generosity and to offer those in need a bit of hope and magic this Christmas.
The calendar is available for sale at the School Reception and the School Shop.
---
Please note that the British School of Bucharest is not responsible for the content on external pages and, as usual, we advise you to monitor your children's online activity.