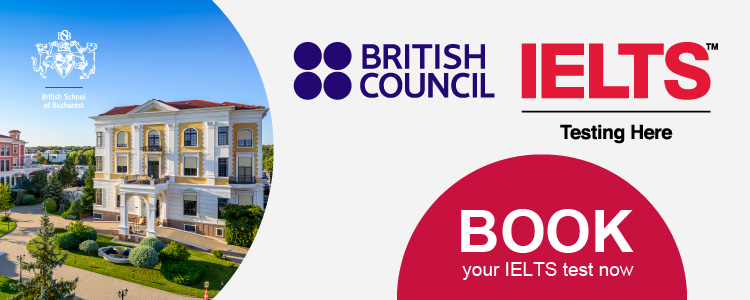 Start Your IELTS Journey at the British School of Bucharest
As a School that values and promotes educational excellence, we're always looking for ways to support students on their journey to discover themselves and turn into confident, motivated, self-disciplined learners who can realise their full personal and academic potential.  BSB provides a comprehensive international education based on the British Curriculum, strong reason to become a British Council IELTS Test Venue and organise the Academic IELTS examination on our campus.
On 5th February 2022 we will organise the first IELTS examination session on our marvellous campus. The world's leading English language test is known to open doors to a world of academic and professional opportunities in English-speaking countries and is an inevitable progression step for those who dream of studying, working or living abroad.
At the British School of Bucharest, we offer the Academic IELTS, required by all the reputable universities and colleges around the world.
The test format is meant to assess the applicant's English language proficiency in reading, writing, listening and speaking – and it will be paper only.
Why should participants book an IELTS test at the British School of Bucharest?
There are several benefits but three of them are top-of-mind.
We are the first and only School in Romania recognised as a 'Trusted Facility' and a 'Safe School', achieved by obtaining the DEKRA standard certification, as a result of the evaluation and implementation of all safety and health measures to prevent the spread of COVID-19, as recommended by the World Health Organization and the local authorities.
We are far closer and more accessible for those living in the Northern area of Bucharest and Ilfov.
We are a leading international centre of academic excellence in Romania, providing a comprehensive international education based on the British Curriculum. The first test we're hosting on the BSB campus is scheduled to happen on 5th February 2022. Those interested should start booking their place. Registration is open only until 20th December.
For more information, visit https://bit.ly/BSB-IELTS.
---
Please note that the British School of Bucharest is not responsible for the content on external pages and, as usual, we advise you to monitor your children's online activity.