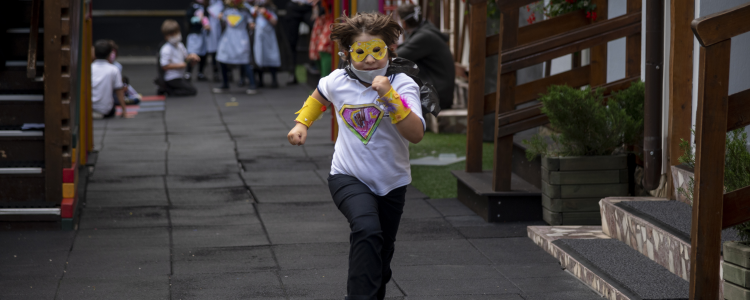 Hard Times Reveal True Heroes
Every teacher at BSB has individual reasons for choosing this profession, but they are united by the desire to impact our students' lives. They are all driven by the passion to help our children achieve to their highest potential academically and personally. Their commitment to excellence has no boundaries. It's a difficult job, filled with constant challenges, but seeing students succeed and become their absolute best makes it extremely rewarding.
To ensure that we can provide our students with the best education, our teachers also continuously learn and seek to develop themselves professionally. They have been doing their absolute best to keep up to date with pedagogical and technological advances in order to offer our students the best possible learning experiences. With this in mind, we are extremely proud that BSB was recognised as one of the three schools who engaged in the most CPD (Continuing Professional Development for teachers) or student activities with COBIS during 2019-2020 Academic Year.
The quality of teaching and learning has been sustained throughout these challenging times, regardless of whether contact has been online or face-to-face. The effort our teachers go to, to create effective learning materials suitable to students studying both on-campus and online, is immense. In the classroom, teachers have adapted their methods to balance the students' safety, current regulations and their need for education following pedagogical methods in which we believe. They have learned how to lead their classes creatively, planning lessons weeks ahead, rigorously and thoroughly, to provide excellent learning experiences whether that be online or face-to-face.
BSB's high standard of learning and teaching is a direct result of our teachers' monumental efforts balanced with their determination to maintain the highest possible expectations for our students. Their commitment to academic excellence and the students' well-being makes the difference through these unprecedented times. As the saying goes, `Hard times don't create heroes. It is during the hard times when the 'hero' within us is revealed'.
We're incredibly proud of our teachers who have been working tirelessly to provide every student with the encouragement and support to develop and thrive in these difficult times. Their efforts stand to prove our commitment to an excellence without boundaries.
---
Please note that the British School of Bucharest is not responsible for the content on external pages and, as usual, we advise you to monitor your children's online activity.