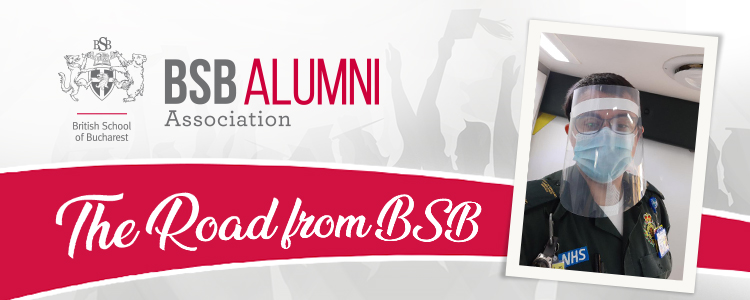 Gruia's hands-on battle with the COVID-19 pandemic
Gruia graduated from BSB in 2014-2015. He shared with us his experiences in helping to fight the coronavirus, as a member of the NHS paramedic team, in the UK.
"When I first graduated from BSB in 2015, and left for Norwich to study and qualify as a Paramedic, I had no idea I would be participating, body and soul, in a global event. As fate has it; during my second year as a practicing Paramedic, I was forced to plunge into battle against COVID-19. My personal life, passions and all other activities ceased. Just like my days as a student at BSB, I am still immersed in a world where I must always be at the top of my game with 100% attention, care and patience in every situation I come across. Now, more than ever, it truly is the difference between life and death. As a BSB student, studying for my A Levels and applying for Medicine, instilled in me the mindset of perseverance, hard work and dedication. Now, as then, with the help of my colleagues and more experienced leaders, I have learnt to overcome every obstacle, no matter how daunting or ambitious it might seem. I remember the good old days fondly, and hope that I may return home soon and in good health, and visit the place I first grew up in: the British School of Bucharest."
---
Please note that the British School of Bucharest is not responsible for the content on external pages and, as usual, we advise you to monitor your children's online activity.