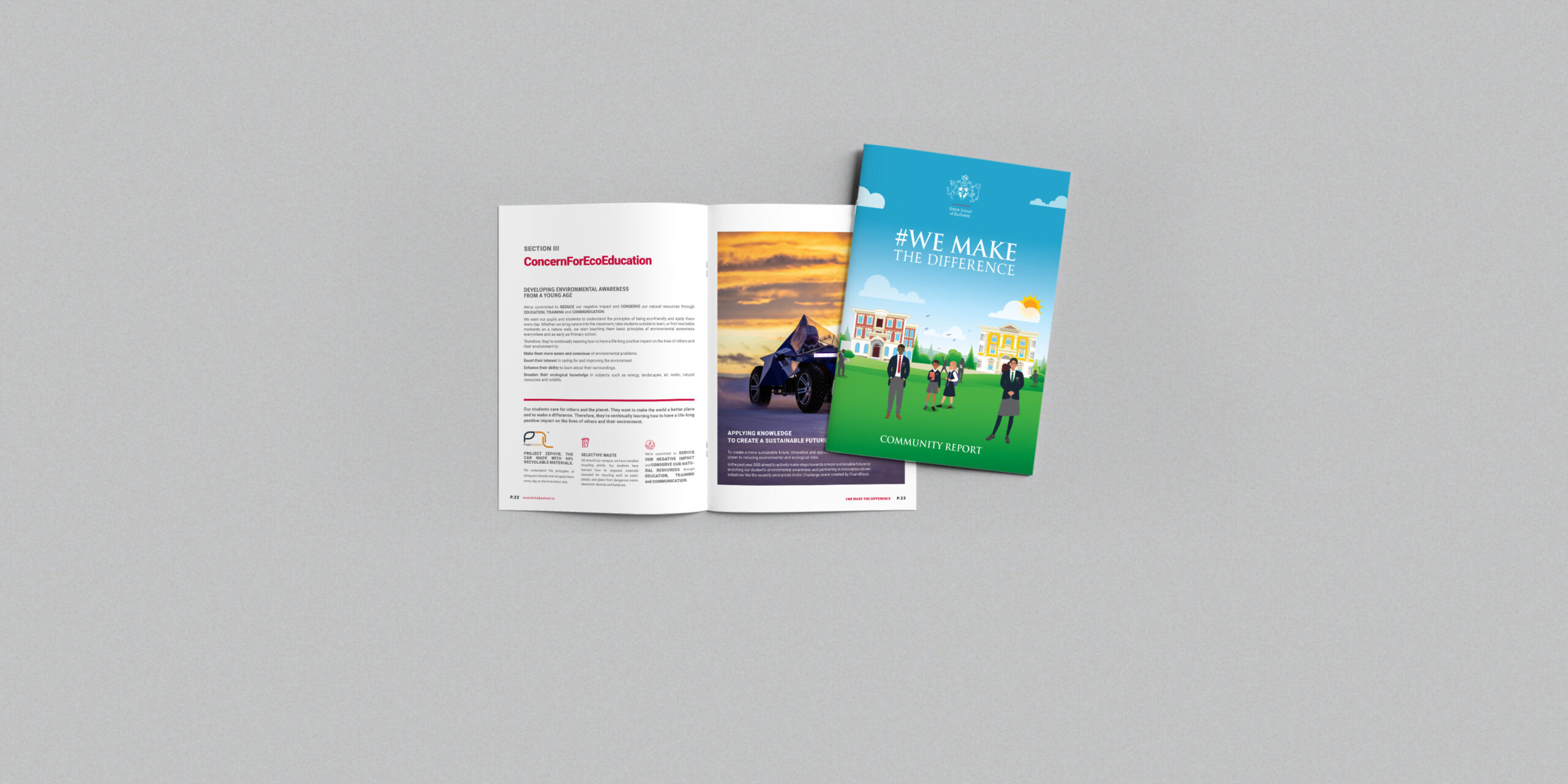 Community Report – Making an Impact in the Community
In the latest Community Report, we highlighted the four core values that our community lives by: caring for others by being kind to our community, caring for our planet through sustainable practices, promoting eco-education by learning to be sustainable, and nurturing well-being by being kind. To live these values, we have taken meaningful action to help those in need, protect the planet, educate our students about sustainability and cultivate a spirit of kindness and well-being.
For the second time in a row, the British School of Bucharest has received the highest rating of 'Excellent' in all categories from the UK Independent Schools Inspectorate. This is inspiring and spurs us to strive for even higher educational standards for our students. We want to help the students become responsible individuals who are highly skilled professionals and citizens who care for others, are committed to social and environmental causes and make a positive impact on their community.
Concern for the community
We are fortunate to have a great community that supports us as we work with various foundations and coordinate numerous charity events. Over the past 22 years, we have supported more than 20 non-governmental organisations each year by participating in more than 300 fundraising events and actively engaging with a variety of charities.
The 'Back-to-School Backpacks', 'Jeans for Genes Day', 'Christmas Gift Appeal', Poppy Appeal and 'Friendship Week' are among our popular initiatives that provide opportunities for the BSB community to support our typical partner charities in Romania and the UK through fundraising activities. As well as focusing on students achieving their educational goals, we also ensure that they develop good morals and practises – qualities such as self-esteem, understanding and compassion to support organisations and communities in need.
Concern for the planet
By increasing awareness and educating our students on environmental sustainability, we recognise the value of fostering a sense of responsibility for the environment.
Through the 6 Rs of sustainability – Rethink, Recycle, Refuse, Repurpose, Reuse and Reduce – we are committed to making our school campus more sustainable and fostering an atmosphere of greener living for future generations.
A lengthy process began in order for our school to become sustainable by pursuing a set of environmentally conscious goals that we translated into action to live a cleaner, greener life.
Concern for eco-education
With a focus on teaching our students about eco-friendly behaviour, we are passionate about helping them gain a deeper understanding of our natural environment.
We strive to provide students with a comprehensive educational experience that incorporates topics such as energy, landscapes, air, water, natural resources and wildlife – all with the goal of reducing our ecological footprint, conserving resources and developing lifelong environmental awareness from a young age.
As part of our participation in Bett 2022, the world's largest educational technology show, we presented the Arctic Challenge with Foamblock – a project to raise awareness about climate change and support sustainable initiatives.
Concern for well-being
At the British School of Bucharest, we have nurtured and promoted a culture of well-being, mental health and resilience throughout the academic year.
We offered a well-being education programme that developed personal and social skills and fostered meaningful moments with teacher-student and peer-peer relationships. These interventions enabled students, teachers, staff and parents to create a safe, inclusive learning environment while emphasising the importance of prioritising well-being alongside academic excellence.
It is essential to foster a sense of community and compassion in our lives and the lives of those around us. Caring for one another, for the planet, and for education are fundamental values that should be kept in mind as we strive towards a brighter future. Furthermore, collaboration is key – teamwork makes the dream work. We must strive to better ourselves while looking out for others, building a world of equity and justice. Together, we can create a kinder and healthier society.
January 2023
---
Please note that the British School of Bucharest is not responsible for the content on external pages and, as usual, we advise you to monitor your children's online activity.