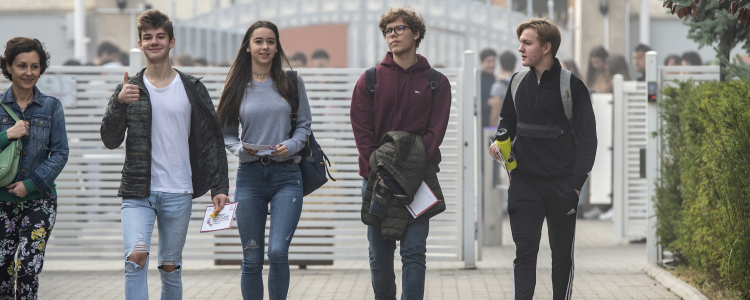 First Edition of the BSB University Conference
Hundreds of students attended One-to-One meetings and special presentations of top Universities from around the world at the Bucharest International Schools University Conference
'The Bucharest International Schools University Conference' gathered twenty-one prestigious Universities on the campus of the British School of Bucharest, who presented their programmes to students interested in studies abroad and potentially a future international career.
Representatives of twenty-one top Universities from the United Kingdom, Austria, the Netherlands, Switzerland, Italy, Canada and the USA were part of the first edition of the "Bucharest International Schools University Conference" on October 21st. They presented their study programmes and funding possibilities for students who want to study abroad.
Hundreds of students had registered for the "Bucharest International Schools University Conference" to take part in special sessions of presentations held by some of the best Universities in the world, as well as One-to-One meetings with representatives from these institutions. The future undergraduate students also received specialist advice for all stages of the various application processes and learned more about choosing the right courses.
Their parents were also able to take part in meetings where they too received guidance which could help them to support their children in choosing the best fit course for a successful future.
At the Bucharest International Schools University Conference, students were able to learn more about: student life in the UK and funding opportunities; where they can study specific courses ranging from medicine to hospitality management, or where there are research opportunities and the employment opportunities they have after graduation from a faculty abroad.
Most of the Universities enjoyed speaking with many students interested in their offers, including Imperial College London, University College London, University of Southampton, University of Nottingham, Savannah College of Art and Design (USA) and University College Utrecht (The Netherlands).
Figures:
More than 250 participants (parents and students)
Registered students from around 30 private and state schools
21 Top Universities from 7 Countries
102 One-to-One meetings
20 Universities Presentations and Parents Sessions
---
Please note that the British School of Bucharest is not responsible for the content on external pages and, as usual, we advise you to monitor your children's online activity.