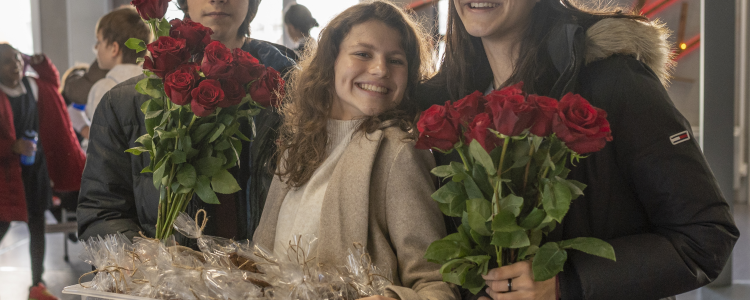 10 Things I Wish I Knew at the Start of Year 12
An article written by Laura and edited by Daniel (Year 12 students)
If you are like me – by which I mean a normal human being that is neither unnaturally neat nor organised – then this article is for you. This article marks the beginning of a new, monthly column on tips on how to best deal and approach different year groups or moments of your academic life.
When entering Sixth Form, I was far from confident about what I should expect for my last two years of Secondary education. I was certainly appreciative of the fact that I could concentrate academically only on the subjects that I had a genuine interest in, as well as being part of the oldest cohort at BSB. However, I had no concrete indicators on which I could base my expectations. Therefore, I have compiled for you a list of ten things that will ease your transition into Sixth Form and will make the start of Year 12 smoother for you.
01 | ORGANISATION
This very much sounds like a Guardian one-word headliner, but rest assured this word is going to haunt you. I am going to be honest here; at the end of Year 11, I set myself the goal of being organised throughout the year. DISCLAIMER! That was far from reality; more like a Utopian vision of Year 12. I started out with four lovely folders – one for each AS subject – and another extra day folder in which I'd keep that day's work and homework. If you are not like one of those people who is just naturally neat, listen up. Throw those folders out the window. Reality is that I still have all the file separators, stacks of perforated paper and folders in one of the bottom shelves of my desk. What I strongly recommend is to get a thick notebook for each of your subjects. That way, you have everything in order at all times. You don't have loose pieces of paper flying out every time you open one of the folders, and you won't do homework and forget it at home because you put it in the wrong one…
02 | PLANNING
Planners: these things saved my academic self on countless occasions. Again, if you're like me (and you can remember the entire history syllabus before the exam but can't remember what you had for breakfast), you will need to start writing everything down. Whether as reminders on your phone (even though it will be difficult to check them as phones are not allowed anywhere outside the common room in 6th form) or on Google Calendar or even old-school style on a paper planner, planning will become indispensable. The amount of times I've forgotten student council meetings, homework, EPQ sessions and many more, is frankly ridiculous. I've always relied on my planner. It's the way to go and will make your life so much easier.
03 | REVISION-NOTES
I have not met anyone who didn't cram for IGCSEs or AS Levels. Guilty as charged. Even though cramming might have gotten all those A*s at IGCSE level, it will not work in Sixth Form. So, get your class notes together, get those Pearson – and Cambridge – endorsed textbooks, Shmoop, Cliffnotes and other 'high-ranked' student tools you may need and start writing revision notes. If you are anything like myself and you take mainly humanities, this is a life-saver. I started doing this after December, and it was nothing less than difficult. Do not do that. Instead, every fortnight, compile your notes and update a common document with all the new material you've been taught. It's easy, and it's going to save you loads of time in the long run, especially during the months right before the exams, when you are going to want to be able to complete as many past papers as possible. The meme about being 5 minutes late to AS classes and missing half the syllabus may be exaggerated, but not by much. Every week becomes crucial to achieve a good grade at AS Level.
04 | MFL SPEAKING EXAMS
Language speaking exams can be very stressful for many students. I know, I was one of them. To achieve top marks, create a Powerpoint or Google Slide presentation, and create different slides for each sub-topic that could come up during a conversation. That way, when your speaking exams come around, you have a perfect resource to fact-check all of your knowledge and ensure that during the actual exam you will quote the necessary data to get a top grade.
05 | EXTERNAL EXAMS
This might not be for everyone, BUT if you're preparing for ANY external exams be it SATs, ACTs, TSAs, BMATs – anything that you may need for your university applications (generally anything that can be labelled as an external standardised test) – prepare and complete them during holidays or half-term breaks. Take it from someone that tried balancing school with SAT preparation and with professional-level sports training, writing competitions and preparing for a model NATO conference, all at once. While I might have survived and resurfaced reasonably well, I would NEVER go through that again. Sporting 3 hours of sleep and 5 cups of coffee is not going to help. I've learned a lot from that experience and realised that the holidays were a time to complete these types of supra-curricular requirements.
06 | PAST-PAPERS
If you didn't use past papers to prepare for IGCSEs, frankly I don't know how you revised. The thing is, teachers have to get through content first, and they need time to make sure that when they set past paper questions, the whole class will be ready and prepared to answer them correctly. However, as unhelpful as it may seem, acing an exam is not just about knowing the content; it is about understanding the exam. What better way to do this, than practice, practice, and practice again on all available past papers that you have at your disposal? All teachers are there to help you, and they will be more than willing – if you ask kindly – to mark and give feedback on any extra past papers that you complete.
07 | FILING MATERIALS
After you've completed a past paper and marked it, do NOT throw it away. File it. That way, you not only make sure you're not going to redo the same papers over and over again (even though you are certainly bound to realise that at some point), but you can also refer back to them. Instead of revising these Bible-length syllabuses, you can easily focus on the sections you got wrong. You won't be repeating humongous amounts of information, again and again, and you will not be wasting your time by concentrating on material that you already know.
08 | EXAM ESSAY STRUCTURE
I know for a fact, that in subjects such as History, English Literature, Psychology and Geography, to gain those top marks you need to know the paper, and more specifically the required structure of your answers. Pay attention to those keywords that indicate what you're supposed to answer. Know how to format and plan your answers, so that (come exam period), you won't be regurgitating facts onto your paper but you will play the exam to the best of your ability and will know exactly HOW to answer.
09 | EMBRACING OPPORTUNITIES
Yes, Year 12 comes with a lot more responsibility and work, but it also comes hand in hand with many more academic, extra-curricular and leadership opportunities. No matter where you will be applying to university, you need to build the strongest possible portfolio for yourself to facilitate your acceptance into such institutions. The Prefect Team, Student Council, Make A Difference Charity Organisation, House Captains, Sports Leaders, tutoring programme and CCAs. All of these are opportunities for you to fully immerse yourself into the school community and expand your extra- and supra-curricular horizons. Take advantage of all the opportunities that BSB has to offer.
10 | STAY POSITIVE
Year 12 is indeed a leap, but to quote an older BSB reporter's piece, it does NOT "hit you like a truck". It will, at times, seem strenuous, but it is fun, and you are going to get used to the workload and the expectations faster that you might expect. Strive to pursue your passions and open up to potential new ones.
See you next year class of 2022; all safe and sound!
---
Please note that the British School of Bucharest is not responsible for the content on external pages and, as usual, we advise you to monitor your children's online activity.