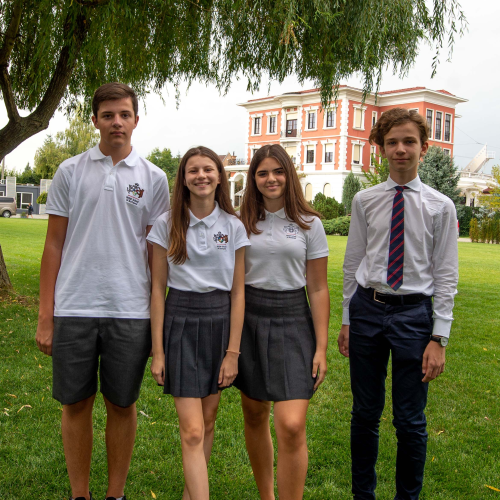 Team Malaxa – F1 in Schools
A 5-member team from our school is ready to rule the world, in one of the most challenging innovation contests, "F1 in schools"! We are immensely proud to announce that Team Malaxa, comprised exclusively of students from the British School of Bucharest, is the only team representing Romania in the finals.
Emilia, Lara, Andrei, Pavel and David have dedicated a great part of their time to build an innovative car, with cutting-edge features and characteristics. They cannot wait to present their car to the world on the 9th of September, in Singapore.
For almost two years, they have worked tirelessly to create this car and to make it as realistic as possible, just like a real Formula1 car. Tudor Atanasiu, their teacher, was there every single step of the way with advice and assistance. The idea was to design and build a miniaturized car model, that can reach 100 km / h with an aerodynamic design by means of compressed air propulsion.
What did our students do? They created a miniature F1 model, made of polyurethane foam and projected on a 1/20 scale. It has aluminum wheels of less than 0.5mm thick and the whole car weighs less than 40g (unpainted). It sports titan axles and complex aerodynamics, resembling a real F1 car. Not only does it look magnificent, this beast flies. It scored an extraordinary time of just under 1.1 seconds on a distance of 25m! Amazing or what? 🙂
The Final contest will take place from the 9th-14th September, in Singapore. The teams will be scored according to the car's speed-response and speed performance, as well as on the team's marketing strategy, graphics, financial plan and sponsorship strategy.
Good luck to our tremendous and energetic team! Be inspired, be confident and be proud of your work, because we all are! Team Maxala, you rule!
The checkered flag is waiting for you!
---
Please note that the British School of Bucharest is not responsible for the content on external pages and, as usual, we advise you to monitor your children's online activity.