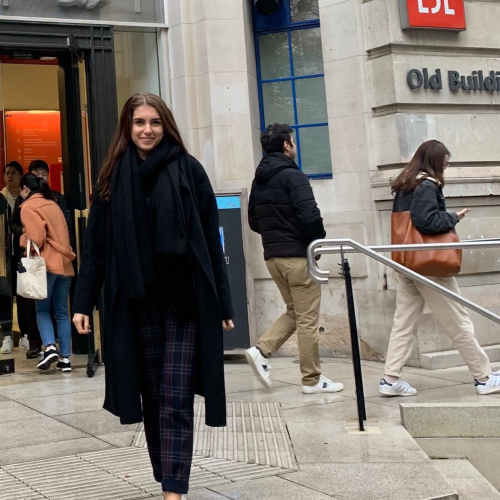 Octavia is studying Economics at the LSE
Road from BSB
Octavia is a former British School of Bucharest Head Girl, she graduated from BSB in 2017-2018. She currently studies Economics at the LSE (London School of Economics). She is very happy to share with you her road from BSB.
What made you choose your course?
Although I was very torn between different degrees, Economics fascinates me because of its applicability to the world around us, be it exchange rates or the prices of common goods – and I sought to really understand what drives them. I loved Maths but always enjoyed essay subjects, so Economics is the perfect mixture of quantitative and qualitative subjects. It is also very broad, as I now discover, being able to soon explore Development, Behavioural or Health Economics.
How is university – what are you enjoying and what are the challenges?
Whilst it is tough to balance all aspects of LSE – studies, social life, societies, sports and sleep, once you learn to manage your time and find friends that support you through everything, you can enjoy every part of it. There are so many opportunities to meet all kinds of people, make lifelong friends and explore your interests, be it through career events, socials, workshops and trips, and London has so much to offer in itself too.
How did BSB help you achieve your goals?
BSB helped me develop my skills by encouraging me to pursue leadership opportunities, from being able to set up new initiatives such as the after-school German club, to taking up already existing ones and understanding what a leader should be like through training and the conference I got to attend in Madrid. Prior to coming to BSB, public speaking felt daunting, while now it's become my second nature. Debating was definitely a contributing factor, as it helped me become comfortable with it through such a supportive environment.
Anything else you'd like to share about your journey?
The eagerness to get involved in all kinds of activities at BSB quickly translated into my university life, as I got involved in a bunch of societies as soon as I arrived. Now, I head the Markets and Trading division of the LSE Finance society, I am Vice-President of the International Development Society, a research analyst in the university's student-run real money investment fund, and play Hockey in the university team. Whilst I sometimes struggle with juggling everything, they are really rewarding and I encourage everyone to see what their future universities offer and get involved in it, be it academic societies or sport. After university, I'd like to pursue investment research and later on economic policy making in a central bank or international organisation, which all my societies are preparing me for in some way. Next summer I will be starting my journey towards that with an internship at J.P. Morgan in their foreign exchange sales & trading desk.
Any particular memories that stand out from your BSB years?
Whilst I really miss all the hours spent in the common room, the highlights were probably the trips abroad: the COBIS World Debating Championships in Dubai and the COBIS Leadership Conference in Madrid. They were both rewarding but also so fun and memorable. We had the chance to get to know each other better and make new friends from other schools who I still keep in touch with today.
Any tips you would give to current students, relating to academics or life at BSB in general?
Explore all the opportunities available to you and make the most out of your years with your high school friends and family while you still have time. There are more and more opportunities to get involved in every year, from Formula 1 to the Innovation Hub, which can all help you further your interests and improve your chances of achieving whatever goals relate to them. Don't be afraid to ask your teachers for help, as they want you to succeed and are always willing to give a hand. You'll never be able to get as much support from your teachers and become as friendly with them as you can here, as at university you become much more independent and your teachers will have little time to help you.