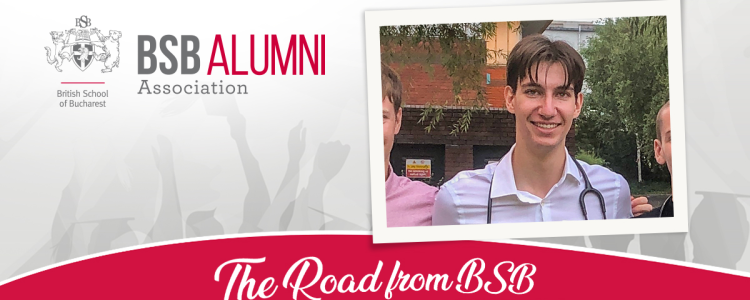 Luka's Road from Igniting His Love for Learning to Studying Medicine
Luka Moric is currently studying Medicine at Trinity College, Dublin. Though he left us after Year 11 in June 2017, his time at BSB played a central role in his academic journey and deciding to pursue a medical career.
We recently talked about his years after BSB, his academic life at Trinity College and his fondest memories looking back on his educational journey.
What university are you attending now? What made you choose your course? Which year are you in?
I'm currently in my third year of Medicine at Trinity College Dublin. I chose Medicine as I've always loved the sciences, Maths and Business and found that what I like most is the challenge of learning new things. Medicine, being a very complex and constantly evolving subject of study, therefore immediately stood out to me and I felt I was capable of achieving it. I also love interacting with people and didn't like the idea of a traditional office job so the dynamic nature of being a doctor in a hospital really appealed to me.
How is university? What are you enjoying and what are the challenges?
I've loved studying at Trinity so far! The lecturers are great and the people are so friendly. I'm really enjoying every module in my degree so far, which I feel very fortunate for, and I also love socialising with my course mates as well as friends I've made in other courses though living in Trinity Halls in my first year as well as through various clubs and societies. The main challenge, I feel, is managing my time well while also looking for opportunities to involve myself in activities that offer valuable experiences from which I can learn and take forward in my future career.
 What's your next plan?
Third year Medicine at Trinity is the first year where we go on placement and spend our time in the hospitals. Therefore, I plan on continuing collecting hospital experience and trying to come closer to deciding what speciality I might enjoy most. Over the summer I must also complete four weeks of placement in a hospital, so I am looking to try and organise this for myself, possibly somewhere in Europe such as the Netherlands, Germany, Austria or Croatia.
How did BSB help you achieve your goals?
I believe BSB as a School played a central role in igniting my love for learning and allowed me to push myself and prove to myself the kinds of things I am capable of. It really helped develop my confidence and drive to push and succeed in life.
When did you graduate/leave BSB? Any particular memories that stand out from your BSB years?
I left just after my IGCSEs at the end of Year 11. Even after just five years at BSB there are too many good memories for me to be able to single one out. From the epic daily Football games during lunch times in the Dome to the classroom shenanigans and banter with the teachers, there was always something to look forward to walking to School in the mornings but one set of experiences that definitely stand out are the Duke of Edinburgh trips that I went on. Going though those long, unrelenting hikes through the Busteni Mountains with 15kg bags on our backs was no easy task but doing it with friends yielded so many great memories and brought us closer that we could have imagined.
Any achievements or contributions that you are really proud of?
I am of course proud of my academic achievements at BSB having achieved nine As and three A's in my IGCSEs. I am also proud that I managed to complete my Maths, Biology, Business Studies and German IGCSEs in only one year and achieve As in all of them, given they are intended as two-year courses. Outside of academics I am proud to have completed both the Bronze and Silver Duke of Edinburgh Awards and loved coaching the BSB Under 9's Football and Basketball Teams as part of that. I'm proud to have also achieved a few sports day School records in High Jump as well.
Is there anything that you want to say to your BSB teachers or tips to current students relating to academics or life at BSB in general?
To my old teachers at BSB, I would like to just thank you for creating an amazing teaching environment in the classrooms where I not only felt supported and encouraged to learn but where I genuinely felt like good friends with the teachers, which is something really special about studying at BSB.
To the current BSB students, just enjoy your time at this great School. Try not to worry too much about the IGCSEs or A-Levels, if you keep working hard and keep asking questions in class if something is unclear, you'll have no trouble achieving your goals.