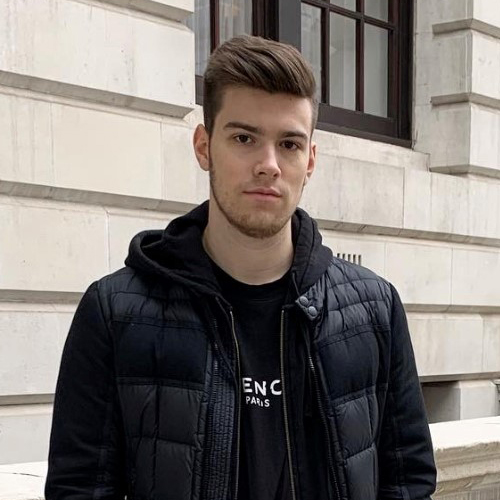 Luca Is Ready to Redesign the Future of Fashion
We had the pleasure to catch up with one of our former students, Luca Enache, who's now in his third and final year at Istituto Marangoni in London, studying Styling and Visual Merchandising. The university projects and the job hunting are keeping him quite busy. Still, he found time to answer our questions about his academic journey, what he learned at BSB, the teachers who mentored him during his time with us and his plans in the luxury fashion industry.   
What university are you attending now?
I am currently a student at Istituto Marangoni in London.
What made you choose your course? Which year are you in?
At the moment I am in my third and final year, studying Styling and Visual Merchandising. Initially I wasn't fully sure what undergraduate course to choose, so I opted for a foundation course to begin with, which I chose based on my interest in art and design. My foundation year then led me to my current course.
How is university – what are you enjoying and what are the challenges?
My experience with university has been very enjoyable so far. I found the way in which university is structured and my courses more enjoyable than my A-Levels, because projects and submissions are related to my passions. As for challenges, the workload is definitely a lot higher than what I was used to but if you manage your time wisely, it is completely do-able.
What's your next plan?
My next plan is to start looking for internships and possible job opportunities in the luxury fashion industry, for when I graduate from my course.
Anything else you'd like to share about your journey?
Yes, I think that London, as a city, has played an important part in my journey throughout my studies. It has offered me lots of inspiration for my projects, as well as opportunities job-wise that you would not find in every city.
How did BSB help you achieve your goals?
Personally, I feel that BSB pointed me in a direction and allowed me the freedom to focus on my interests and pursue them into my higher studies. Taking Art as one of my main subjects at A-Level for example, helped me create a portfolio and learn basic skills, which in turn helped me in my university projects.
When did you graduate from BSB? Any particular memories that stand out from your BSB years?
I graduated from BSB in 2018 and the best memories I have are experiences with my friends within School and conversations with some of my favourite teachers, as well as all the BSB Summer Fairs and other exciting events.
Any achievements or contributions that you are really proud of?
Attending a university like Istituto Marangoni is one of my great personal achievements. However, my most important achievement to date is everything I have learned and experienced so far, which in turn I plan to use in developing personal projects and creating future businesses.
Anything that you want to say to your BSB teachers? 
I would like to thank Mr. Walters for showing me what BSB was all about and as a result inspiring me to choose it for my final years of study.
Mr. Porter – for always knowing how to handle both personal and academic problems, as well as guiding and advising me through my university application. Mr. Williams – for helping me explore my passion for Art and creating a strong portfolio of work. Finally, I'd also like to thank Ms. Citron and Ms. Hooper for their positivity and encouragement, both of which played an important role throughout my studies.
Any tips to current students relating to academics or life at BSB in general?
The advice I would give to current BSB students is that they should always believe in themselves and always trust their ideas and stick to them. I wasn't one of the best students in my class, I was quite the opposite but once I discovered where my passions lay and trusted my intuition, I realised what my strengths are. Now in my final year of university, I have achieved some of the best grades to date, as I am pursuing my passion.