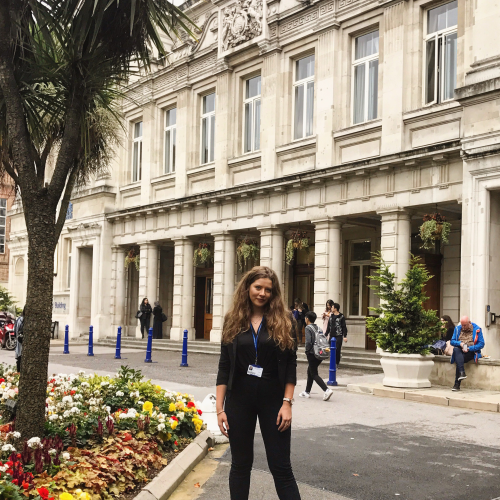 Life at Queen Mary University through Ilinca`s eyes
The Road from BSB
Ilinca is a former BSB student, she graduated from BSB in 2016-2017. She currently studies Economics, Finance and Management at Queen Mary University. Enjoy reading about her road from BSB.
What made you choose your course?
Having thoroughly enjoyed studying economics for my A Levels, I wanted to delve deeper in understanding the economic concepts and issues which face today's world. Choosing to study Economics, Finance and Management at Queen Mary University allows me to combine economics with knowledge also in accounting, business law, and marketing – enabling a wider understanding of different disciplines.
How is university – what are you enjoying and what are the challenges?
I'm really enjoying being able to focus my learning on my particular area of interest, as well as selecting elective modules which suit me best. However, I initially found it difficult adapting to an environment in which I had to independently manage my time studying, as there are less opportunities for one-on-one contact and support from professors compared to BSB. However, this helped me become more self-motivated as well as developing my time management skills.
Anything else you'd like to share about your journey?
I have decided to pursue a career in investment banking following my graduation and have already secured a summer analyst role with RBC Capital Markets next year. Being encouraged to have multiple work experiences during my time at BSB helped me gain an understanding of the work undertaken within different industries, and ultimately shaped my decision. Seeking work experience is also something I continued to do during my time at university and would highly recommend it.
How did BSB help you achieve your goals?
In addition to my education and all the help provided to me by my teachers, the community at BSB is what has helped me the most, even after my departure. Having kept in touch with most of my graduating class and some of my teachers, they have supported me through the challenges I've faced since leaving BSB. Whenever I visit Bucharest, I always make sure to visit BSB and keep in touch with peers and teachers.
Any particular memories that stand out from your BSB years?
Definitely the multiple international trips I went on representing BSB for World Scholar's Cup, such as to Prague, Dubai, and Kuala Lumpur. Not only was it great fun but being able to learn about different cultures and interacting with new people is a learning experience which can't be replicated in the classroom.
Any tips you would give to current students, relating to academics or life at BSB in general?
I would definitely say, take advantage of all opportunities available to get involved within the school community. Taking on roles of more responsibility, such as House Captain or Prefect, and participating in competitions such as the debating team, can help improve your interpersonal skills and allow you to interact with new people, both within and outside BSB. Being Head Girl allowed me to develop skills which have helped me integrate well within societies at university, as well as to take the leadership in group projects.
Hope this helps the readers of @BSB understand better what life at university is like!