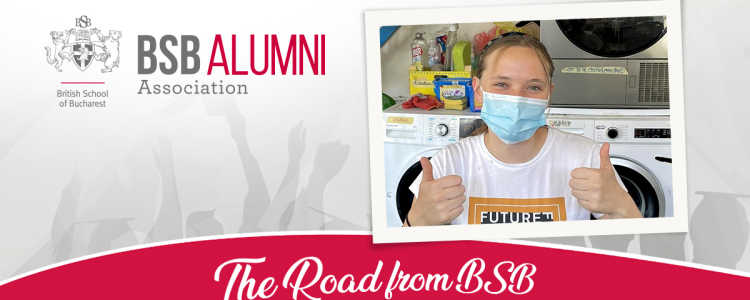 Georgina Is Still Determined to Make a Difference
Georgina, our former 2021 Head Student, is currently studying Geography at the University of Edinburgh, yet she is still determined to continue to Make a Difference. Even during her holiday in Belgrade, Serbia, she volunteered for Collective Aid, an independent, volunteer-run organisation aiming to cater to the constantly changing needs of refugees and migrants across Europe.
She is working for the Belgrade branch of the charity on their wash project, which ensures free shower facilities and laundry services for people on the move and locals in need. She is helping distribute hygiene items like toothpaste, toothbrushes, wet wipes etc. and fresh fruit to those using the wash centre.
She has been there since mid-June. Within the first two weeks, she noticed the difference this project makes to the quality of life of those who use it, not just in the functional sense but also in its use as a hub for socialising and a place to hang out and drink tea round the water cooler.
However, she noticed during the short time she's been in Belgrade that there has been a noticeable escalation in the number of people on the move, both in the location where she works and the surrounding areas. Summer months tend to be preferable for making the journey through Europe.
Because of this, the services they provide are becoming increasingly limited. Since her arrival, the provision of hygiene items has decreased to only 2 per person, and Non-Food Items, in general, are being depleted.
If you want to find out more information on how to help and stay informed about this project, Collective Aid has a useful website (where they also accept donations!) as well as an Instagram page where you can keep up to date with other projects run by them and get regular updates on the refugee crisis in general.
It is great to see the BSB Concern for Others in action.
Good luck and keep up the excellent work Georgina!