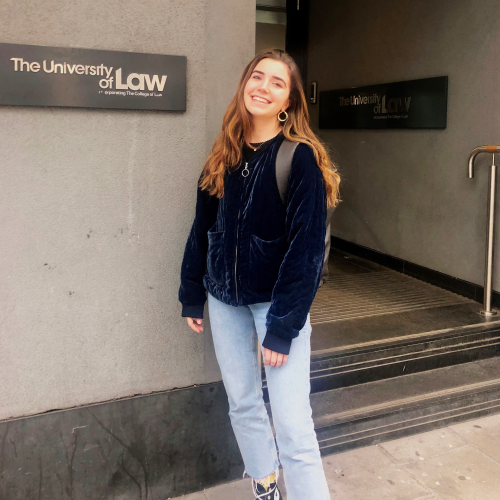 Ana Graduated with a cum laude BSc in Economics
Ana Popovici graduated from BSB in 2017 and joined University of Amsterdam. In 2020 she graduated with a cum laude BSc in Economics and a minor in Political Science, a perfect example of the results of hard work and commitment.
When did you study at BSB?
I did my A Levels at BSB, from 2015 until 2017. I took Mathematics, Physics and Economics to A2 and History AS. It was a formative experience for me, as I was coming from the Romanian public system and I had little knowledge about the British curriculum. At first, I had a hard time adjusting to the new system. Pushing through that taught me a lot about persistence and determination. I am glad to have done it in such a supportive community.
What did you study at the University?
I graduated from University of Amsterdam, with a cum laude BSc in Economics and a minor in Political Science. It was a research focused, intensive course that promotes independent work and thinking. I am very happy with the choice I made and I am continuing with my MSc in Economics at the same University.
What made you choose that particular course?
A big part of my decision was Mrs. Claire Hooper (BSB's Deputy Head of Secondary School and Teacher of Economics) and the Economics A Level. Before coming to BSB I had little knowledge of what Economics is, or how to further advance in this direction. I was one of the indecisive people who are good enough at Maths, but also enjoy History and Politics. Usually, that is the ordinary combination for most people studying Economics. Of course, in due time I was bound to find out that Economics tends to be a nice façade for Applied Mathematics, especially in Applied Microeconometrics, the direction I am currently following.
How was University – what did you enjoy and what were the challenges?
University in Amsterdam, like most Dutch universities, has a very particular structure. This consists of two semesters, which are divided into two blocks of two months and a block of one month. You take two courses each, with exams at the end of the two months. This means you are in a continuous exam period. The pace is fast, and until you get used to the structure it takes a couple of months.
My first months in Amsterdam were a combination of trying not to break anything while biking, with balancing a workload that was not known to me until then. Nobody takes you by the hand, and the University lets you figure things out on your own. This can lead to frustration, especially if you are not independent and are not used to having a set studying schedule.
Throughout my studies I was part of the editorial team of the faculty's magazine. I also worked, and still work, as a Teaching Assistant the Amsterdam School of Economics. So, there are plenty of things to do and people to meet, it just takes a bit more effort and persistence on your side. I made friends for life, from all around the world, and my Dutch is good enough to get by without using Google Translate all the time.
How do you think the British curriculum made a difference in your academic and professional life?
The step to A Levels and the independence gained in that period prepared me for university more than I could have imagined. My academic writing skills were well formed, which gave me a clear advantage in the first months. Not to mention, the promotion of independent exam study. I am grateful for it and I think a big part of my achievements come from building that strong basis during my time as BSB.
What were you like as a BSB student?
Not implicated. I think that is fair to say. I did not make much of an effort outside of my studies and there are times I regret that. Coming so late into the school and being a rather angsty teen I had numerous irritations, with even having to wear formal clothing. (I still got by with wearing black Converse, but please do not tell the administration). I appreciated class a lot and I did try to do my best. I have a lot of respect for all my teachers and I treasure all they taught me. But I really do need to highlight that Mr. Allsop and Ms. Hooper really did make a very lasting impression on me, and my academic achievements.
Any tips you would give to current students, relating to academics or life at BSB in general?
BSB is a very academic oriented school. It really offers you the chance to excel, especially if you like independent work and study. That is a great privilege, and you should not take it lightly. Also, if you are considering applying to study at university in the Netherlands, feel free to contact me. I would be more than happy to help and answer all your questions.