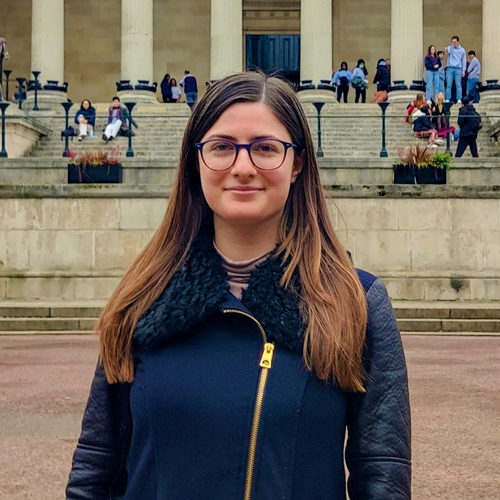 Alexandra's Road to a Career in Fintech
Alexandra Gkolia graduated from the University of Bath with a BSc in Mathematics with first-class honours and is currently pursuing an MSc in Computational Finance at UCL. Her sights are set on a career in Fintech and we recently had a discussion to see where her journey from BSB has taken her and how much the BSB experience shaped her future.
What university are you attending now? What made you choose your course?
I graduated from the University of Bath with a BSc in Mathematics with first-class honours and I am currently pursuing an MSc in Computational Finance at UCL. My course combines Computer Science, Data Science and Finance, while building on mathematical foundations. I chose this course for the skills I want to gain before going into industry and for the placement opportunities it offers, as well as the excellent academic environment of UCL.
How is university – what are you enjoying and what are the challenges?
University is a really fun time where you meet many different people and also learn and develop unexpected skills. I really enjoyed getting involved in current research and it really helped me figure out what I want to do after my degree. Of course, there are many challenges, from numerous deadlines and exams to getting used to online learning due to the pandemic.
What's your next plan?
The UK is full of opportunities and I am looking to work in FinTech, a fast-growing industry. The main prerequisite to this industry is a strong technical background, so although I didn't know it then, my choice to study Maths has proved invaluable.
Anything else you'd like to share about your journey?
Apart from academics, I found it important to focus on extracurriculars and finding ways to help local communities. As in BSB, there are numerous initiatives where one can contribute; I was involved in a project for helping to break the cycle of homelessness in Bath by providing transferable skills training, as part of the Enactus society. I strongly encourage anyone to see ways in which they can personally contribute to social initiatives.
How did BSB help you achieve your goals?
The international environment and community, as well as the numerous opportunities (MUN, Debating) really opened up my eyes to the possibilities of studies and a career abroad. My experience at BSB helped prepare me to be independent and easily adjust to living abroad.
When did you graduate from BSB? Any particular memories that stand out from your BSB years?
I graduated from BSB in 2017. I did A-Levels in Maths, Further Maths and Physics and I also took AS French and Economics. The last two years of school are a turbulent time and BSB was very flexible with subject choices and with allowing students to follow their own paths.
The most important memories I have of BSB are the ones with my fellow classmates, from School trips to supporting each other through applications and the difficult and stressful times during School.
Any achievements or contributions that you are really proud of?
I am really proud of contributing to academic research (pending publication) and continuing this research for my Bachelor's thesis, in which I was successful in achieving a first-class grade. Collaborating with a research group was a very enjoyable and valuable learning experience, and I hope to further contribute to research in the future.
Anything that you want to say to your BSB teachers or tips to current students relating to academics or life at BSB in general?
I want to thank all my teachers and Mr. Walters for their support and personal investment, helping me navigate my subjects and achieve my potential. To current students, I would say to take risks and grasp opportunities which are available to you and to not hesitate to reach out to others.