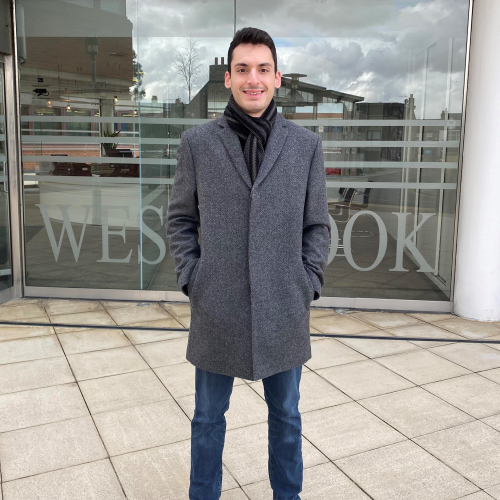 Akis is doing research on the fields of health, science and innovation
Akis is our 2013 – 2014 Head Boy. Discover his road from BSB, that lead him to be an Analyst-Health Economist at RAND Europe, a not-for-profit policy research organisation based in Cambridge.
What university have you been attending? What made you choose your course?
After I graduated from BSB in 2014, I moved to the UK, where I studied Economics at the University of York. I went on to do a Master's degree in Health Economics at the University of Leeds, graduating in 2018. Since November 2018, I have been working at RAND Europe, a not-for-profit policy research organisation based in Cambridge. My current role is Analyst-Health Economist and my work focuses primarily on the fields of health, science and innovation.
My overarching aspiration when I chose my course was to be able to make a little more sense of the complex world we live in. Looking back, my studies have given me a framework for thinking, analysing and understanding a variety of topics and issues, both in my every day and professional life. I was particularly fascinated by Health Economics, which is essentially the study of how to allocate scarce health resources in a way that would maximise public benefit.
How was university – what have you been enjoying and what were the challenges?
University was a fantastic experience for me. It was a smooth transition into 'adult life', as I had a fair amount of responsibilities, while enjoying the benefits of not having a full-time job. It got a little stressful at times, but this is one of the reasons why I felt a sense of accomplishment when I graduated. All in all, university is a great environment to learn, socialise, enjoy yourself, and figure out what you want to do moving forwards (not necessarily in that order).
Anything else you'd like to share about your journey?
Thinking about my time at BSB and university, I have a ton of fond memories that I cherish. I met a lot of amazing people and made strong friendships that have lasted to this day.
How did BSB help you achieve your goals?
The skills and experiences I gained at BSB were essential for me to be accepted to a top UK university. My studies enabled me to begin a career in research, with my goal being to have a meaningful impact on health and social policy. This is of course only one of the countless roads you can go down after leaving BSB.
When did you study at BSB? Any particular memories that stand out from your BSB years?
I was at BSB between 2010 and 2014, where I completed Years 10 to 13. Some of the memories that stand out are the trips to the Romanian countryside, including one for the Duke of Edinburgh's Award, a trip to Prague for the World Scholar's Cup and a Head Boy/Head Girl trip to Spain. However, what stands out the most is taking part in sports competitions, and particularly the wins against AISB at football and basketball.
Any achievements or contributions that you are really proud of?
Scoring the winning goal against AISB!
Any tips you would give to current students, relating to academics or life at BSB in general?
I believe that choosing the right university and course is important, but it does not tie you down to a certain career path. There is always opportunity to manoeuvre or even change direction completely later on. It may feel like a huge decision, but you will get to make many more of them in the future.