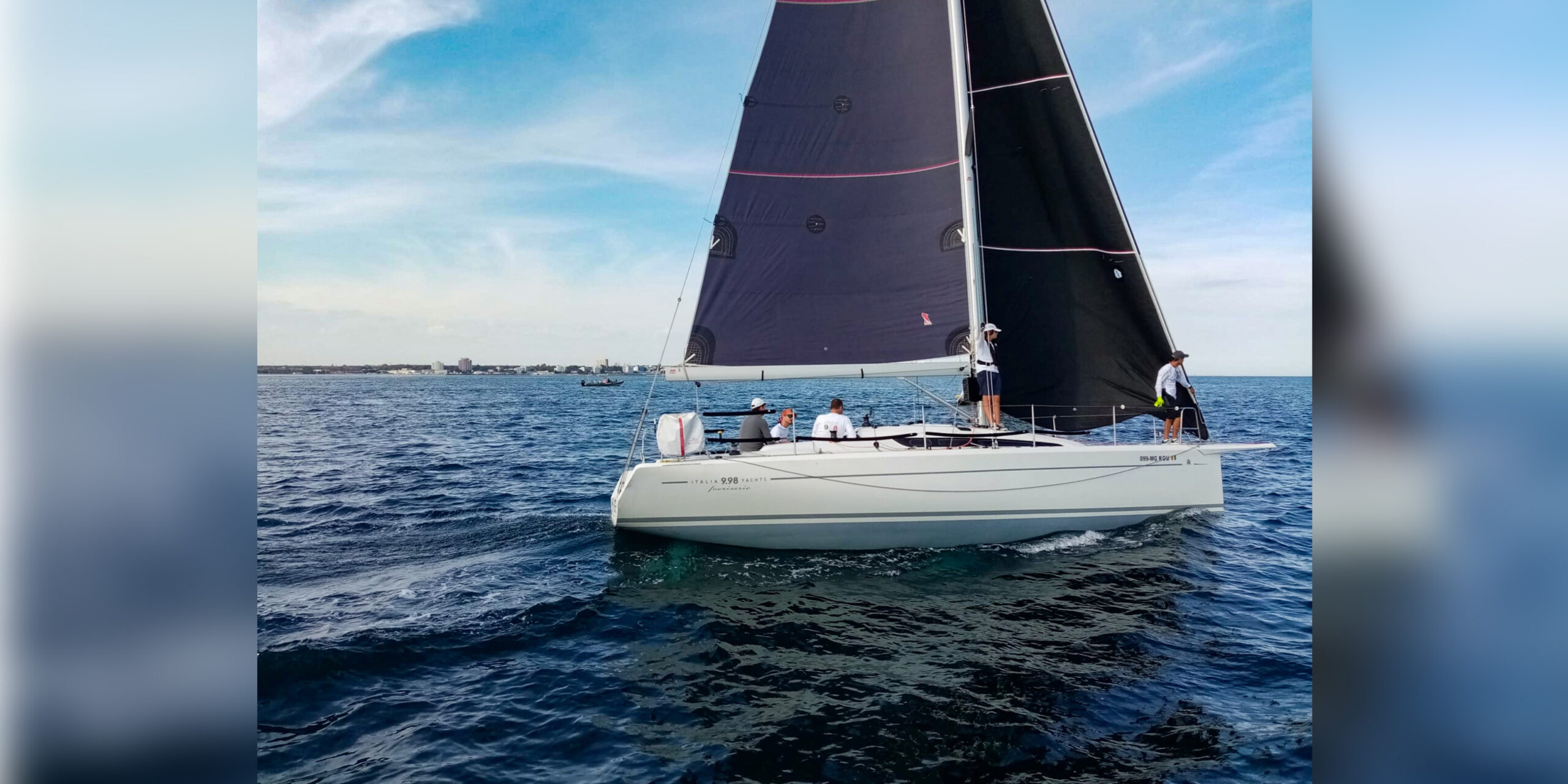 Danny won the National Yacht Racing Championship
His first year competing in an Offshore boat on the Black Sea was in 2022.
Danny started sailing when he was four-five years old, as his father took him out to sea in his beach catamaran every summer in Mamaia. Then, as a Junior, he joined Sportul Studentesc Yacht Club, where he learned to sail optimist boats. He started by taking over his father's beach catamaran and continued sailing it during the summer.
We asked Danny some questions during an interview:
We understand that you and your crew are now National Champions. What did you have to do to become champions?
Danny: We had an incident on the starting line in the first race, and we were disqualified in that race (six points), but we won all the other six races (one point each). We were the boat with the lowest score in Class A2 and won the National Championship in Class A2.
The Romanian Offshore Championship is composed of two weekends of individual races. In 2022, the races were held on 13-14 August and 1-2 October. A total of nine individual races were scheduled, out of which the last two races, on Sunday, 2nd Oct, were cancelled due to high wind speeds of over 60 kilometres per hour. The scoring system is called "low point", meaning in each race, first place equals one point, second place two points, etc., and the National Championship is won by the boat with the lowest cumulative score at the end of all races.
Danny, what sort of boats are you racing?
Danny: The sailboats are divided into two classes, according to length. Class A2 for boats between 30 and 40 feet and Class A1 for boats longer than 40 feet. Our boat, HOPE, is 9.98 metres, so we race in Class A2.
What is the role of each crew member?
Danny: A boat of 30 to 40 feet usually has a crew of seven-eight people, each with a particular role, and sometimes more than one role. Three sails carry the boat: the mainsail, jib, and downwind sail. Depending on the angle of the wind relative to the boat, we use a combination of two sails, either the mainsail and jib for upwind angles or the mainsail and downwind sail for downwind angles. Also, depending on the force of the wind, we have three different jibs (for low, medium, and strong winds) and two different downwind sails (for low-medium and medium-strong winds).
The main activities of the Crew members are:
● Skipper: maintaining the course of the boat from the tiller
● Bowman, Mastman, and Pit: hoisting and lowering the sails, depending on the combination of sails which is used (upwind or downwind), and the force of the wind
● Mainsail Trimmers, Jib Trimmers, and Downwind Trimmers: adjusting the angle of the sails relative to the wind to gain maximum boat speed
What were your responsibilities on the boat?
Danny: I worked as Mastman when hoisting and lowering the sails, then I would switch to Jib Trimmer on upwind angles and switch to Mainsail Trimmer on downwind angles.
What is the most challenging part of crewing a yacht?
Danny: Since we are all amateur sailors, the challenge is to recruit talented amateur sailors, preferably with previous sailing experience, and willing to commit nine weekends during summer to a sailing activity away from their families. The crew must work together, be good at what they do, be willing to take advice from their colleagues, and direct orders from the skipper. Since sailing is eminently a team sport, they must function well as a team and put the team's results above their individual egos.
Have you got any sailing ambitions?
Danny: Yes. Well, school is obviously very important to me, but I like sailing very much, and now we have a National Championship title to defend next year.
---
Please note that the British School of Bucharest is not responsible for the content on external pages and, as usual, we advise you to monitor your children's online activity.