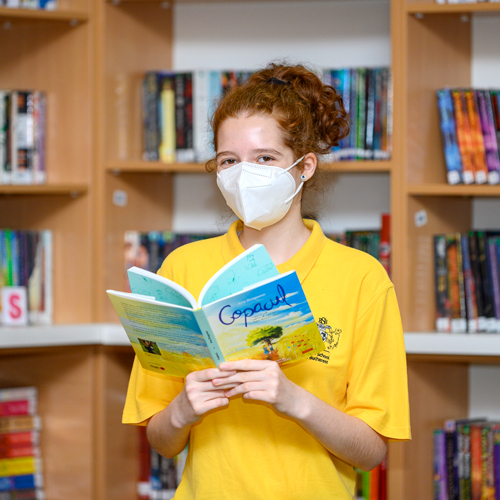 Ana's Imagination Conquers All
Interview written by Yasemin, and edited by Vedangini and Ilinca, BSB Reporters
Copacul is the witness of history and life. It sees everything, from sorrow and loss to moments of happiness and joy. It is like a pillar in a field where people and animals come to find wisdom and knowledge about life and how beautiful it is even though it is hard.
'The book is mainly about Copacul (The Tree) and its life, which starts in 1558 and continues through to 2020, and about the people and history that shaped it and its way of living.'
Ana's approach while writing this book, she says, was to show the importance of 'The Tree' and how something so small and easily ignored could be responsible for dramatically changing the life of a person. This is why she wrote her book from the perspective of several characters.
'Upon finishing this book, I would love the readers to go and hug a tree and start thinking about life. If you surround yourself with people who care about you and live life the way you want, there's always going to be light at the end of the tunnel.'
Ana states that the book has a lot of her personality and self ingrained in it. She especially feels close to the last chapter which is written from the perspective of a character inspired by herself: Anne. 
Anne is an aspiring writer who comes across 'the Tree' and feels strikingly inspired by it.
She says, Anne represents me and most of the events that Anne goes through are real. A few years ago I went to the countryside, a place I adore… We wanted to have a picnic and read outside so we took our things in search of a perfect place to settle, and we found it, close enough, in a field full of small flowers and trees. In the middle of the field, there was an enormous tree that looked as if it was observing us.
Ana says she felt a certain familiarity with this tree and remembers feeling mesmerised by its sanctity. She describes having a revelation as she daydreamed under the shade of its leaves.
'Trees see so much history and the passing of life and people don't pay enough attention to them or the beauty of their world, so I decided to write about a tree, in a field, that shaped as many people and animals as possible and to dedicate my book to all of the trees in the world and show them that they are not only seen but deeply appreciated.'
She also hopes to show people that a connection with nature can help them through hard times and allow them to truly live their lives.
Ana and her publishing team have decided that 10% of the sales from her book will be donated to an organisation that plants trees and supports forests. 
I think what was most important for me was to bring justice to all of the trees in the world and protect my Tree.
She recognises deforestation as an issue all over the world and within Romania especially.
Her approach is very inspiring: she suggests that a valuable way to support afforestation as a young writer and student is by writing about how a tree feels about it and all of the suffering deforestation causes, not just among trees and animals but among people as well. So by donating part of her earnings from Copacul, Ana and her team wanted to help as much as possible and bring some sort of fairness to the natural environment.
Ana also hints at a new project she's working on.
A new book may be on the way, although she says that nothing is clear yet, she has several ideas set regarding the characters and settings.
She says, I know that I want this new book to be about the connection between a human and a bird, as I love birds and have a personal connection with them. Another thing I know, and this is exclusive, is that it will be set near the sea, possibly on an island. For this new book, readers should expect all of the themes that are always present in my writing. Friendship, love of literature, adventures, imagination and characters overcoming obstacles and realising how beautiful life is.
Being a published writer quite young, Ana presents her peers and the BSB community with some advice: Believe in yourself. She knows that this phrase is overused and thrown around, but recognises it to be inspiring and true. Remembering what her favourite author tells her readers, Ana assures her readers: 'you are the only you there is in the whole world and only you can write your unique story. Always remember that you are one of a kind, beautiful and brave in your own way and that hard times will come but you can get through it with the help of people who care about you.' She proposes that looking at the future with hope, even through hard times, will make life seem easier and brighter.
We congratulate our Year 8 student Ana on her book, the first of many, and wish her luck with her future projects.
---
Please note that the British School of Bucharest is not responsible for the content on external pages and, as usual, we advise you to monitor your children's online activity.