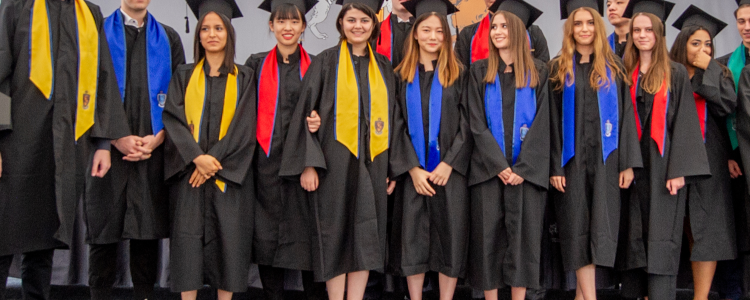 With great A level results, our graduates are now starting their studies at some of the most prestigious universities in the world!
We are delighted by the great results achieved by our graduates. They received many offers to study in the UK and all over the world! With 35% A- A grades for all A Level exams taken and 83% at A- C grades, the BSB graduates once again proved the excellent standards of education here at BSB, alongside their amazing ambition, determination and desire to succeed!
Some of the prestigious universities that will welcome our graduates and help them to secure further success include: Imperial College, University College London (UCL), Queen Mary, City – University of London, University of the Arts, London School of Economics and Political Science (LSE), King's College, Istituto Marangoni and SOAS University, as well as, Ecole Hôtelière de Lausanne, Anglo American University (Prague), UCLA, Oxford, Universities of Warwick, Bristol, Bath, Edinburgh and Southampton!
The academic interests of our graduates this year are varied. They include Mathematics, Economics and Management, Law and Applied Medical Science. Higher education courses selected also include the artistic and creative sector, with choices such as; Film, Music, Journalism and Fashion.
We would like to share some of the specific course choices and destinations for our graduates: Octavia will study Economics and Political Science at The London School of Economics and Political Science (LSE), Finn chose to learn about Mechanical and Electrical Engineering at The University of Bath, Anisia will study Medicine at The University of Exeter and Yeiji, Applied Medical Sciences at University College London (UCL). Laura and Luca decided on following their passion and love of fashion, by choosing to study Fashion Marketing at the London College of Fashion, part of the University of the Arts in London, and Fashion Design at Istituto Marangoni in London.
Last but not least, we have the story of Mary. An ambitious student, with an artistic dream, who has achieved the highest possible A Level result in Art, after a tough exam! She started studying at BSB in 2014, when her level of English was close to beginner, and in just 4 years, with the support of our BSB teachers, she has performed superbly with spectacular results!
The University of the Arts London (UAL), a Top 6 global university for art and design, according to the 2018 QS World University Rankings® and Europe's largest specialist university for art and design, is now waiting for her to fulfil her dream as an artist!
Her path to success was not at all easy. Mary's final art exam consisted of four objectives: recording of observations, contextual investigations, development of processes and concepts, and a final piece. She had a ten-week period for this final piece and a 15-hour exam in which to give it her final touch. Romanian artists, coupled with famous artists from other countries, inspired her to come up with a spectacular result – a bronze masterpiece.
All in all, we are all ecstatic for our BSB graduates and so proud for their performances! We wish them the best of luck and urge them to continue to write their own success story with the same ambition and determination. Embrace your dreams and conquer the world!
---
Please note that the British School of Bucharest is not responsible for the content on external pages and, as usual, we advise you to monitor your children's online activity.