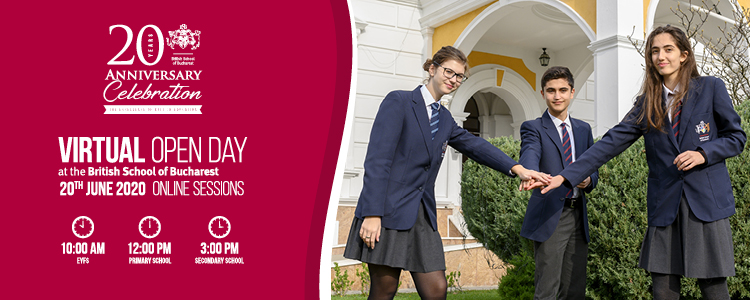 Virtual Open Day @ BSB
In previous years, parents and children would visit our BSB campus in-person, before deciding to apply to our educational institution. In this way, students could get a feel of what it would be like to study here; see all the facilities and speak to staff and students to learn more about the opportunities available at BSB.
This year, due to the current international situation, the BSB campus remains closed. Taking this into consideration, BSB will organise its first BSB VIRTUAL OPEN DAY on the 20th June 2020.
The internet is a wonderful tool, and in the current situation, the approach that the British School of Bucharest has had over the past few years of giving its students the right digital literacy skills needed to interact and navigate the world today is proving invaluable. BSB has also created digital means through which parents from the international community can get in contact with BSB from all over the world.
During this event, parents who are actively searching for a school can discover BSB's commitment to excellent education through a series of online talks and Q&A's specially designed for EYFS, Primary and Secondary. Our admissions staff and Heads of School will be there to answer their questions, take them on a virtual tour of our school grounds and provide them with necessary information regarding the British curriculum and our extra-curricular program.
Information about the event
The BSB VIRTUAL OPEN DAY will take place on the 20th June 2020.
We will have three timeslots with one hour reserved for each presentation and 30 minutes for the Q&A session.
Timetable for each session
10:00 – 11:30 – EYFS
12:00 – 13:30 – Primary School
15:00 – 16:30 – Secondary School
This online event is dedicated to parents wishing to register their child for the 2021-2022 Academic year.
Register here for BSB VIRTUAL OPEN DAY: https://bit.ly/2zsRO7o
---
Please note that the British School of Bucharest is not responsible for the content on external pages and, as usual, we advise you to monitor your children's online activity.