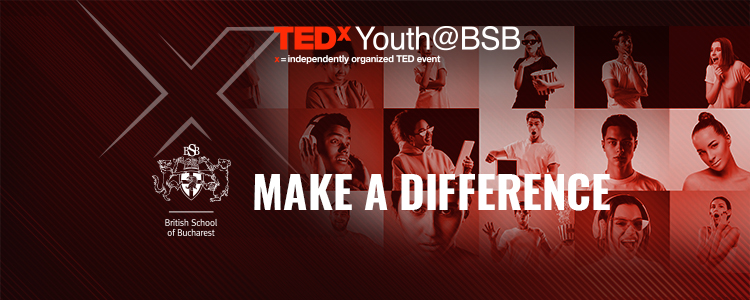 TEDxYouth@BSB First Edition Learnings
On 28th April, a group of our students fully organised and hosted the first TEDxYouth@BSB, a teen-led event open to students from all international and state schools in Bucharest. The event brought together speakers from our School and the Cambridge School of Bucharest who shared inspiring stories and ideas with their peers while promoting youth initiatives and global cooperation.
It was pretty impressive to see our students get involved in this project, from choosing the theme, finding speakers and promoting the event surrounding the idea of 'empowered youth'.
A line-up of eight speakers introduced the audience to current topics and created an engaging online experience. The subjects ranged from 'How advertising affects society', 'The importance of publishing research' to 'How small victories can help solve climate change' or 'Why a bad day is the best day of your life'.
The involvement of our students in this project proved that courage, creativity and determination have no age or limit. The event was an excellent opportunity to glimpse the brilliance of the next generation of leaders and innovators and better understand their perspective on pressing global matters.
We're incredibly proud of our students who put together an event that turned out to be such a success, despite being organised in such an unusual context. They worked hard and dedicated hours to create an experience that would consider the COVID-19 safety measures and the communication difficulties due to distance learning. They planned for weeks, took into account various circumstances, designed the promotional material and recruited the speakers. Despite the unconventional online live streaming means through which the TEDxYouth@BSB took place, the Student Executive Team presented an event that reaffirmed the extent to which their generation is 'empowered'.  Check out what the first edition of TEDxYouth@BSB meant in numbers and start looking forward to the next edition!
---
Please note that the British School of Bucharest is not responsible for the content on external pages and, as usual, we advise you to monitor your children's online activity.