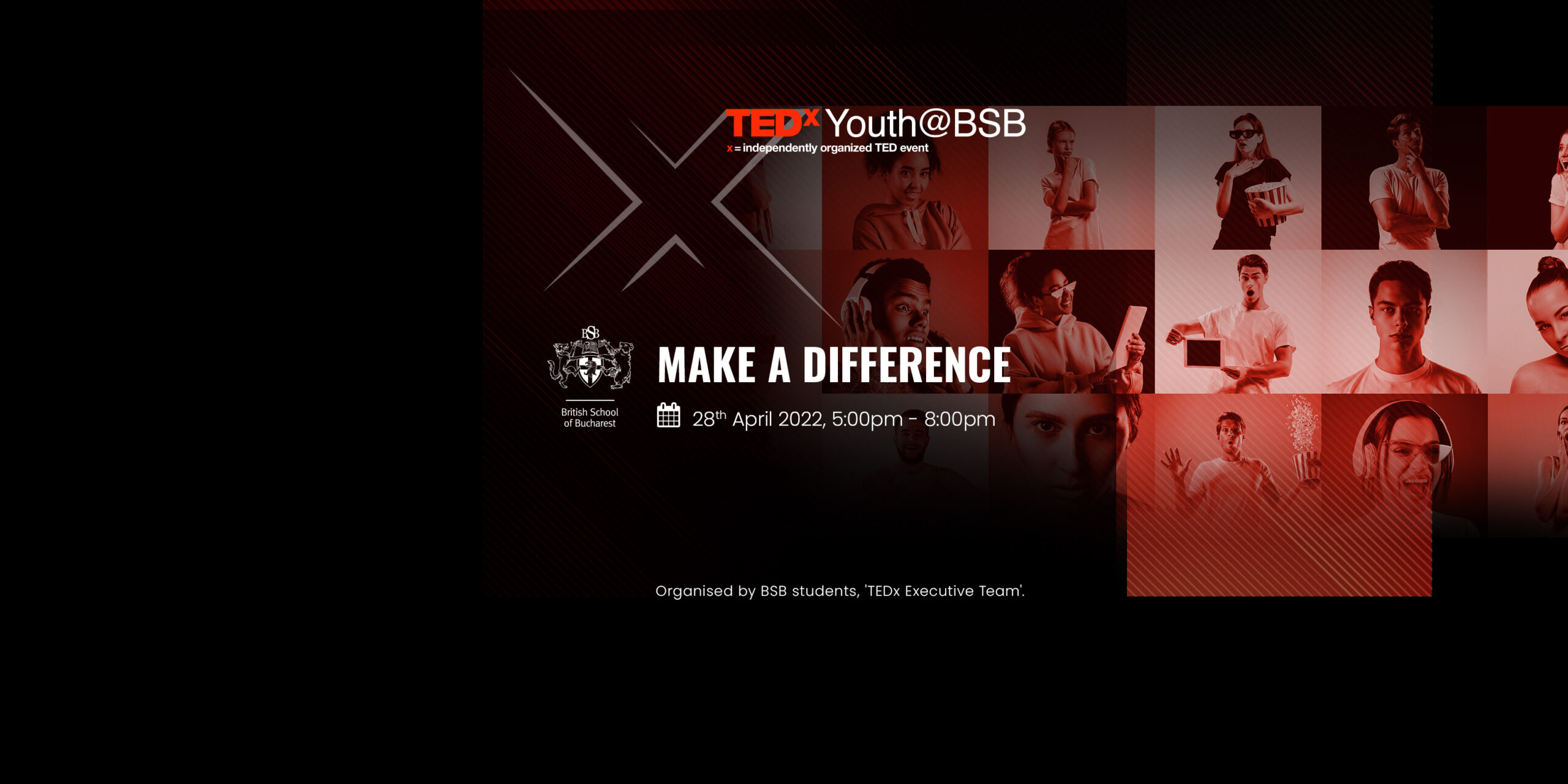 TEDxYouth@BSB – The 2022 Edition
The second edition of TEDxYouth@BSB, an independent TEDx Conference, fully organised, managed and hosted by a group of BSB students, will take place on 28th April between 5.00pm and 8.00pm at the British School of Bucharest.
TEDxYouth events are some of the most creative conferences organised by or catered toward pupils and students. All speaker presentations from the conference will be available online on the BSB YouTube channel in the coming days.
The special event, organised by BSB students and dedicated to their generation of zoomers, will bring together seven student speakers from Romania who will share ideas, inspire action in others and touch on topics related to youth empowerment. The speakers will each hold a 15 minute talk during the conference and they will represent both international and state schools including BSB, the National Bilingual College 'George Coșbuc' and Genesis College.
This TEDx event is an excellent opportunity to better understand the next generation of thinkers and innovators while creating a space to share ideas.
Make a Difference – The Power of Young Zoomers to Influence the Future.
'Make a difference' is the central theme of TEDxYouth@BSB – 2022 Edition. This student-created event's main focus is to create a platform to share and discuss youth empowerment and gather the courage to believe in themselves and go after their dreams, fostering change in themselves and their world.
Planning and designing a TEDxYouth event is a big endeavour. Every detail has been carefully planned by our BSB students, from choosing the theme, finding speakers, logistics and venue setup, to event communication and promotion. The team involved in organising this project has risen to the task.
Event Schedule Agenda
5.00pm – Conference opening and introduction
5.20pm – 5.50pm – First set of speakers
5.50pm – 6.05pm – Break
6.05pm – 6.50pm – Second set of speakers
6.50pm – 7.10pm – Break
7.10pm – 7.40pm – Third set of speakers
7.40pm – 8.00pm – Closing remarks and ending ceremony
TEDx is a programme of local, self-organised events that bring people together to share a TED-like experience. These events are branded TEDx, where x represents independently organised TED events. The TED Conference provides general guidance for the TEDx programme but individual TEDx events are self-organised.
For those interested in finding out more information, here you can follow their official Instagram account.
April 2022
---
Please note that the British School of Bucharest is not responsible for the content on external pages and, as usual, we advise you to monitor your children's online activity.