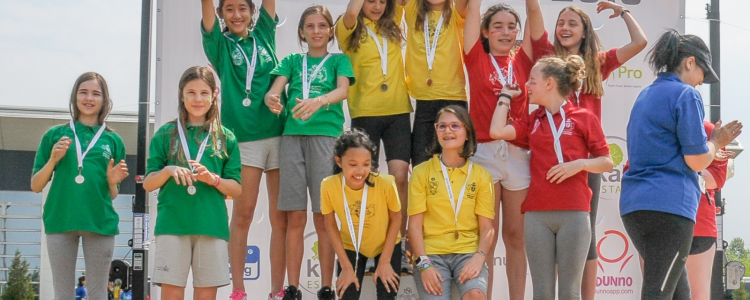 Sports Day, a day filled with joy and energy, at British School of Bucharest!
Last Friday was an amazing day for the British School of Bucharest's students. They enjoyed many sporting activities, at Izvorani Stadium, taking part in an entire day dedicated to sport.
More than 420 of our students, from EYFS to Y13, competed for their 4 Houses: Argeș, Mureș, Danube and Olt, demonstrating fair play and magnificent team work! The children battled for as many points as possible. Activities ranged from traditional track events such as 800, 400 and 100 metre races to agility runs, mini hurdle and shuttle races alongside field events including shot putt, long and high jump. They all did an amazing job, but there can only be one winning House and this year's winner, Mureș House, claimed the trophy!
The competition was made even more special with Marta Stuparu, the wife of Dan Stuparu, sensei 7DAN, at the event. She led a karate demonstration and presented the trophy to the winning House. She was truly impressed by the hard work and the energy of our students: "I am very happy, because you have proved, that if you train hard and try to perform with passion and determination, then the results will always be successful. Whether you came first or last, it does not matter. Just being here and giving your all, makes you all winners in my eyes. You proved that "I can't", does not exist!".
We congratulate all our competitors for their tireless energy and we would like to thank Marta Stuparu for her kindness and support! She shared with our students Dan Stuparu's memorable words: "Today, better than yesterday, tomorrow, better than today", so, as she said, with this belief, the BSB children are invincible from now on!
---
Please note that the British School of Bucharest is not responsible for the content on external pages and, as usual, we advise you to monitor your children's online activity.