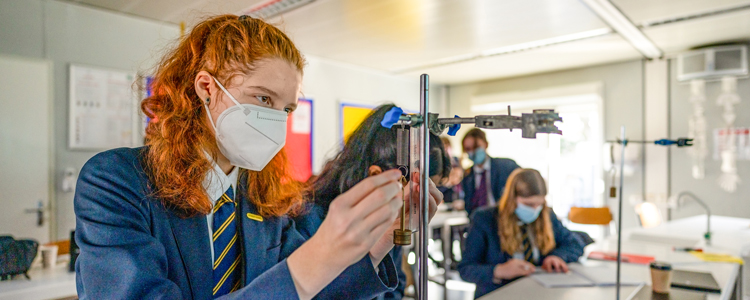 BSB Science Week – The Annual Celebration of Science, Technology, Engineering and Maths
The importance of an excellent Science education has never been more relevant to understanding and engaging with the world around us. Between 14th and 20th March, we joined British Science Week and hosted the annual celebration of Science, Technology, Engineering and Maths. At BSB, we also ran a 'Science Opens Doors' talk for Year 10 on Monday, 21st March, followed by our World Water Day event on Tuesday, 22nd March.
Activities for Primary School pupils
During BSB Science Week, Primary pupils had a whole week of exciting learning experiences centred around this year's theme: 'Growth'. The activities included dissecting flowers, live events with scientists investigating life cycles, researching ways to reduce the impact of farming by reducing emissions or learning shocking statistics around food waste. The students were challenged to get involved and apply their learnings in the fight against climate change.
BSB Key Stage 3 Science Fair
The Science Department and Sixth Form STEM Leaders were delighted to organise the first ever BSB Key Stage 3 Science Fair. The event provided further opportunities for Secondary students to independently explore their interests through investigating a scientific hypothesis or making a scientific artefact. The event helped develop students' research, organisation, collaboration and resilience skills, essential in all areas of life.
In January, students came up with their Science Fair proposals and have embarked on projects. We were impressed with the range and creativity of ideas and were looking forward to seeing their final products.
Between 15th and 17th March, Year 7, Year 8 and Year 9 students presented their projects in the Marquee to their colleagues, Primary pupils and teachers, between 2.00pm and 4.00pm. The Sixth Form STEM Leaders and teachers assessed the projects for criteria such as:
How well thought out was their proposal
How well-organised they were with their project?
How good are their displays or explanations at the Fair?
How successful were they in achieving their aim?
How well have they evaluated their project?
A winner for each year group will be announced at the end of the year. As with all their work, students' efforts and achievements will be taken into account in their termly reports and an award will be presented at the Awards Ceremony at the end of the Academic Year.
Until then, take a closer look at the projects students have presented during the Key Stage 3 Science Fair. Their ingenuity and creativity will astound you.
Year 7 Projects
Year 8 Projects
Year 9 Projects
Be sure to follow our social media accounts for daily updates on all the exciting School events happening at BSB.
March 2022
---
Please note that the British School of Bucharest is not responsible for the content on external pages and, as usual, we advise you to monitor your children's online activity.