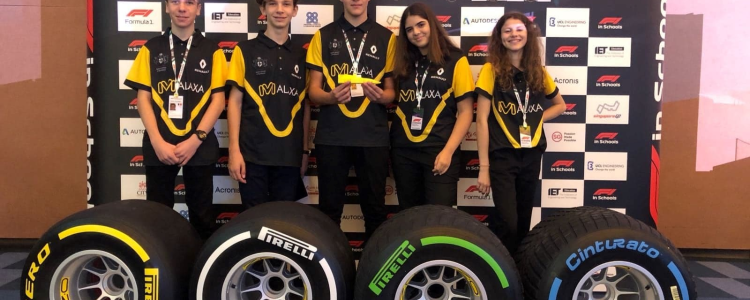 Our students strike again! Team Malaxa represented Romania at the "F1 in schools" competition in Singapore!
Malaxa's car track time ranked 12th out of 50 teams worldwide in the final "F1 in schools" competition, in Singapore!
We are so proud of our 5 young engineers and entrepreneurs, Emilia (Team & Marketing Manager), Lara (Graphic Design & Marketing Manager), Andrei (Financial Executive), Pavel (Manufacturing Engineer) and David (Manufacturing Engineer)! The only team representing Romania in this competition prepared tirelessly, for almost two years, to create a unique concept car and to make it as realistic as possible. Not only does it look magnificent, this beast performs like a real F1 car!
What was the challenge about? Malaxa had to design and build a miniaturized car model that can reach 100 km/h, with an aerodynamic design, utilising compressed air propulsion.
What did our fantastic students do? They created a miniature F1 model, a unique concept car made of polyurethane foam miniaturised to a scale of 1/20th and projected on a 1/20 scale. It has aluminum wheels of less than 0.5mm thick and the whole car weighs less than 40g (unpainted). It sports titanium axles and complex aerodynamics, resembling a real F1 car.
Competing against 50 teams worldwide was not at all easy. The projects were judged by over 45 specialists from the industry, Formula 1 and education, taking into consideration the car's speed and performance, alongside the team's marketing strategy, graphics, financial plan and sponsorship strategy. After all these areas of review were taken into account, Team Malaxa was ranked 34th out of 50 teams worldwide.
---
Please note that the British School of Bucharest is not responsible for the content on external pages and, as usual, we advise you to monitor your children's online activity.