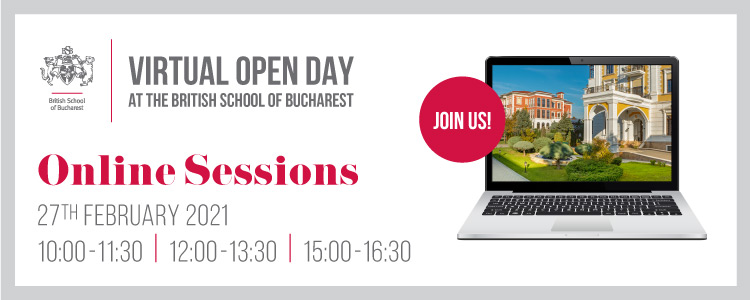 #JoinUs at the BSB VIRTUAL OPEN DAY
#WeAreBSB and we're welcoming parents and potential students to the upcoming Virtual Open Day to take an online tour of our campus and meet key School staff.
We know that choosing the right International School is an important decision; therefore, the research stage has to be very well done. Our Virtual Open Day will help both parents and prospective students discover BSB's learning environment and community so that they can make the right decision for their future education. By attending this event, they will find that in a world full of challenges and unpredictability, the British School of Bucharest provides a safe and caring environment for students, encouraging them to fulfil their personal and academic potential.
During the Virtual Open Day event, parents can discover BSB's commitment to an excellent British education through a series of online talks and Q&A's specially designed separately for EYFS, Primary and Secondary Schools. Heads of School will take them on a virtual tour of the British School of Bucharest campus grounds, provide important information regarding the British Curriculum and extracurricular programme for each stage and answer any questions that parents might have.
From the EYFS tour, parents can expect an in-depth presentation of the learning activities that our native English-speaking teachers carefully plan based on the children's needs. In the Primary Stage Session, we will present the broad and balanced curriculum that our students learn, emphasising Literacy and Numeracy. Finally, in the Secondary Stage Session, the focus will be on the rigorous and challenging British curriculum that we teach and the vast range of IGCSEs and A Level subjects that could help them choose the best University from around the World.
About the event
The BSB Virtual Open Day will take place on 27th February. We will have three time slots with one hour reserved for each presentation and 30 minutes for the Q&A session.
Timetable
10:00 – 11:30 – EYFS Stage
12:00 – 13:30 – Primary Stage
15:00 – 16:30 – Secondary Stage
Register here for the BSB Virtual Open Day.
---
Please note that the British School of Bucharest is not responsible for the content on external pages and, as usual, we advise you to monitor your children's online activity.