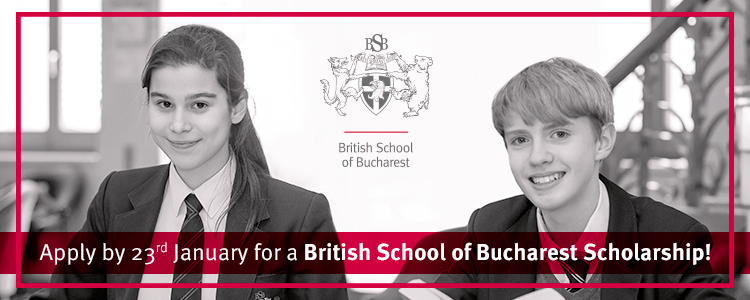 Join the British School of Bucharest! Applications are open until 23rd January to join our scholarship programme which can cover up to 100% of fees
We start the New Year with excellent news! You still have time to apply for our scholarship programme until 1 pm on the 23rd of January. What are you waiting for? Just 2 weeks left to take the first step in a life changing experience! Are you an exceptional student with excellent results who is currently in Year 9 or 11 in the International school system or grade 8 or 10 in the Romanian school system? If so, the British School of Bucharest can offer scholarships which cover expenses for school fees ranging from 30% to 100%. Following our selection process there is no limit to the number of places in the programme.
"In two weeks we will close the registration process for the sixth edition of the BSB scholarship programme. I encourage students and parents not to delay in completing their applications for this fantastic opportunity. Discover the excellence of British education and the vibrant spirit of the BSB community! Applications close at 1pm on 23 January and I look forward to meeting all candidates to discover your personalities and skills!", Philip Walters, Headmaster British School of Bucharest.
The selection process takes place on 26th January and 2nd February and includes English and Mathematics tests, CAT testing and an interview with one of the BSB team. The first stage of the examination takes place on Saturday 26th January, when applicants will attend an interview and complete the CAT testing. Only those students who are succesful will be invited to the next stage on 2nd February, when English and Mathematics will be tested.Personal interests and hobbies, out-of-school achievements and planned university destinations or courses are just some of the details we require when you complete your application form.
In addition, we will require other documents, such as a copy of your Birth Certificate / ID Card / Passport, your most recent School Report, an Art Portfolio or proof of any Sports Achievements and any other relevant documents to support your application. Full details of the Application Process and Scholarship Policy are available on the Application form available here.
Don't be afraid to apply – believe in yourself, in your skills and in your determination! This is an amazing opportunity and we look forward to meeting passionate and exceptional students. Take a moment to review the information available on our website, apply by 1pm on 23rd January and we hope to meet you on the 26th of January! Commit yourself to excellence and become a British School of Bucharest student for the 2019-2020 academic year!
---
Please note that the British School of Bucharest is not responsible for the content on external pages and, as usual, we advise you to monitor your children's online activity.