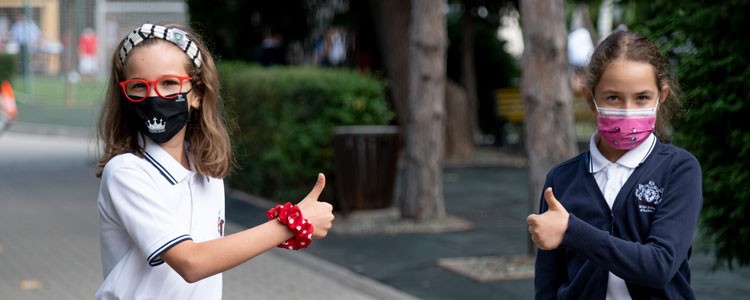 Excellence without Boundaries
The first half of this term is over, but the joy of being back to School hasn't faded. It couldn't have, considering we have waited for such a long time to open the BSB gates and welcome our students face-to-face. It feels incredible to have them back on campus and to resume all our activities.
Our mission has always been to offer our children a safe and caring environment to achieve their highest academic potential, regardless of whether it was face-to-face or online. However, this year we went the extra mile because we want our children to benefit from the same learning experience.
Even if uncertainty has been the norm this year, BSB's commitment to academic excellence has remained constant, and that left no room for compromise. Therefore, after taking all the safety and health measures, we started the new academic year with a full day on-campus schedule. All our facilities, including lunch, transportation, and sport, are operational and adapted to ensure social distancing.
To balance our students' safety and their need for education, we asked for help from our incredible teachers. Not only did they adjust the full British Curriculum for face-to-face and online learning, but they continued to engage with our students in extracurricular activities during the After-school Club Programme. By doing that, they contributed to bringing the `new normal` close to the one that we knew before.
Besides the teachers' tremendous efforts, the cleaning staff have been working tirelessly to keep the School clean and sanitised. The cafeteria staff work in protective gear all day long so that our children can safely have their lunch break. The gatekeepers monitor our students and enforce social distancing rules. We're incredibly proud of our community, for having made this school re-opening possible on a full schedule.
All of our efforts paid off when our students finally returned to School and met with their teachers. The joy of being back together was indescribable. Regardless of the future's uncertainty, we're confident our students will have an excellent learning experience resulting in outstanding academic achievements.
October 2020
---
Please note that the British School of Bucharest is not responsible for the content on external pages and, as usual, we advise you to monitor your children's online activity.