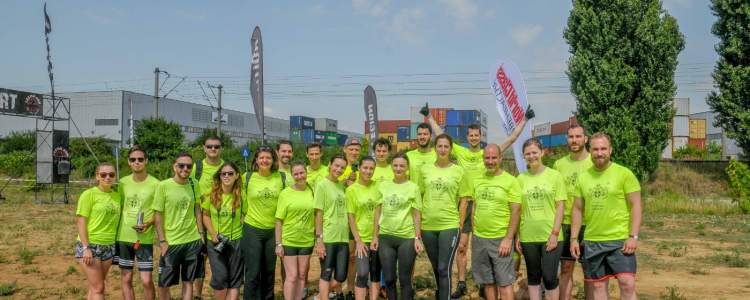 Challenge accepted, mission accomplished! BSB's team demonstrated its spirit of adventure, at Legion Run!
We are proud to announce that a BSB team, consisting of staff and teachers, participated on Saturday 16th June, in Legion Run, at Divertiland WaterPark. It is an amazing sporting adventure, designed for those who love challenges! Our 26-member team did a great job and demonstrated that nothing is impossible, when you help each other and work like a real team, to conquer fears and overcome obstacles.
"Sometimes, we all need a little motivation" is the message of our BSB staff and they were full of motivation! Running, crawling, climbing, getting wet or muddy – nothing was too much or too hard for our colleagues! Stelian Stancu(football coach) and Tudor Atanasiu(teacher at Innovation Hub) were part of the team, as well as many of our IT, finance and office staff. Prince Nicholas de Roumanie, also joined the BSB team on this tremendous adventure.
They all demonstrated that loyalty, determination and confidence are the keys in successfully taking part in an adventure like this!
With all the benefits sport has, for mind and body, giving strength, power, energy and a positive spirit, our BSB staff and teachers are active members in a series of sporting events and activities. That is why they accepted, with great enthusiasm, to tackle the Legion Run challenge. They couldn't miss out on this unique team building experience, designed to challenge and to be enjoyed by everyone! Their effort and passion for sports is a true example for the BSB pupils, who learn, day by day, of the many benefits of regular exercise, physical activity and sports. That's why, our British curriculum offers them a huge range of activities, both curricular and extra-curricular, to develop and grow healthy, to have energy and strength and to learn the importance of teamwork.
Thank you to our BSB team for this great example! We are so proud of every single colleague of ours and we hope they continue being active, living healthy lives and representing the BSB spirit in as many competitions as possible!
---
Please note that the British School of Bucharest is not responsible for the content on external pages and, as usual, we advise you to monitor your children's online activity.