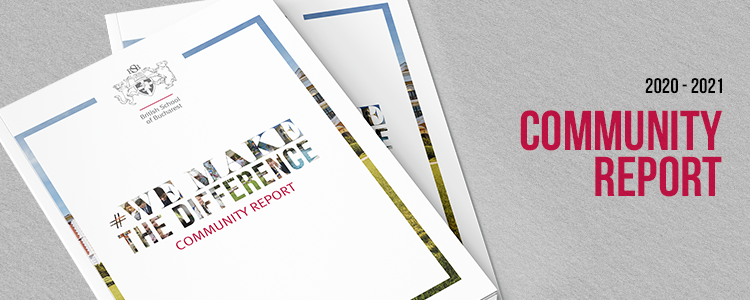 BSB Makes the Difference
At BSB, we help our students fulfil their academic potential, and we also have the responsibility of raising them to become kind adults. As such, even during 2020, a year that brought unprecedented challenges to all of us, we continued to take an active role in community service projects and various fundraising activities while further pursuing our quest to be environmentally conscious. We've managed to do so because our values of self-control, honesty, respect, equality and concern for others are deeply rooted in our community and culture.
Therefore, we're proud to launch the 2020-2021 BSB Community Report, a documented journey of the BSB Community through volunteering activities and fundraising campaigns, the lessons we taught our children on how to use our planet's resources efficiently and our sustainability actions.
We suppose you might be wondering why we're so deliberate in encouraging our students to develop an attitude of individual responsibility for themselves, the planet and their community. In that case, our Headmaster's words will provide some clarity.
'At BSB, we believe in the idea that each of us can make the world a better place. In our community, we make it clear that big things can happen if you get involved and put passion into everything you do. Our mission is to educate our students to become great professionals and compassionate people who are willing to help others, get involved in social causes and ultimately make a difference in their community. In the end, this is one of the aspects that make us feel accomplished as human beings', Mr. Philip Walters, Headmaster.
In addition, specialists agree that volunteering activities have a direct impact on children's personal development.
'Volunteering is a great tool to foster empathy in children because it allows them to get in touch and tend to others' needs with compassion and genuine understanding. We increasingly see that volunteering leaves a lasting impact on their attitude and understanding of personal and social responsibility by taking children and adolescents out of their comfort zone and opening their eyes to the needs of others. Children who volunteer generally have a greater sense of social ability; they are friendlier and care for the well-being of others above their age expectations', said Mrs. Laura Dumitrescu, Psychologist.
Last but not least, studies show that both adults and children who volunteer are happier because it gives them a greater sense of purpose.
'I have witnessed many times, not only in myself but in students the sense of personal fulfilment and happiness that comes from volunteering and touching the lives of others'. Mr. Jason Porter, Head of Secondary.
That being said, we encourage you to read the 2020-2021 BSB Community Report, an overview of the small acts of kindness from our students, Teachers and staff that made the difference this year.
---
Please note that the British School of Bucharest is not responsible for the content on external pages and, as usual, we advise you to monitor your children's online activity.