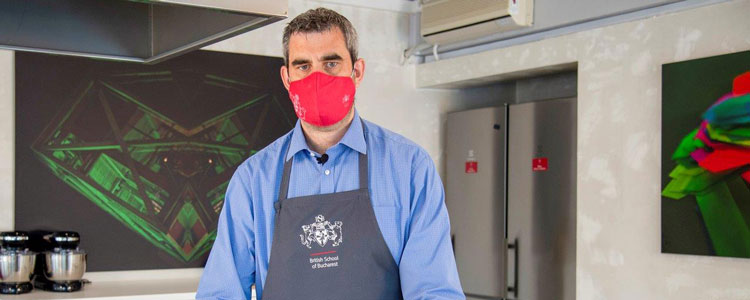 BSB is Cooking with Soul
Cooking is not just about the ingredients, recipes and techniques. It's about learning the principles of nutrition and healthy eating, expressing imagination and embracing mistakes as part of the learning curve.
We believe that by instilling a love of cooking in our students, they will unleash their creativity, discover a variety of foods and learn invaluable skills. Chef Peter Soulsby joined us this summer to teach our students how to embrace kneading, chopping, stirring, smelling, cutting and tasting foods while having fun and learning how to master a full course.
Besides the classes he teaches on campus in the Food Technology Studio, he also makes video recipes and presents them to our Primary and Secondary students who cook from home. Under the baton of Chef Soulsby, our students learn face-to-face or online on how to use the cooking equipment, how to handle ingredients and how to prepare various recipes using specific cooking techniques.
Chef Peter shares our belief in an experiential and hands-on approach to learning about nutrition and food preparation. Therefore, the recipes he films and shares with his students explain in detail all the cooking techniques. In his first recipe, Cheese Scones, he taught our students the rubbing in method, and in the Pasta Salad episode, he showed them the bridge, claw and rock chop cutting technique.
By having a certified chef on board, we have an even more incredible opportunity to teach our students everything about nutrition, from ingredients to planning meals and how to make smarter food choices. Also, the children who will be cooking at home will increase their sense of accomplishment and self-esteem by contributing to the family dinner. We're looking forward to seeing our students sharpen their kitchen skills to make incredible dishes for themselves and their families.
---
Please note that the British School of Bucharest is not responsible for the content on external pages and, as usual, we advise you to monitor your children's online activity.