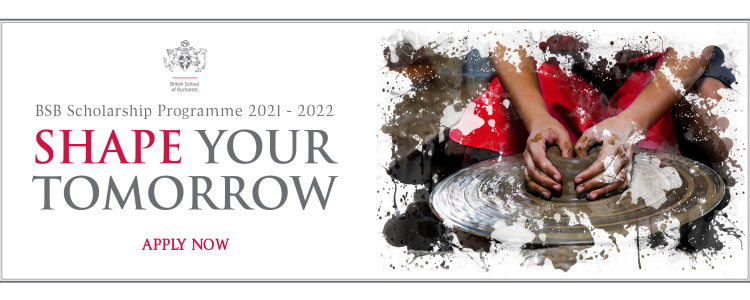 BSB Helps Students Unleash Their Unlimited Potential
In spite of all the challenges we have been faced with this year, there is no reason for students to stop building their capacities, character and the beliefs that lead them to flourish as adults and future leaders. We believe we can offer them the chance to shape their tomorrow and take the first step in creating a better personal future and an excellent education.
This is why the British School of Bucharest renews its commitment to provide a schooling experience that helps students take the future by storm and get exactly where they want to be. This is why we offer them, once again, a special Scholarship Programme for the 2021-2022 Academic Year that can open so many doors!
It's the first step for a student that wants to unleash their unlimited potential. It's the foundation for a life spent learning, being relentlessly curious and helping to create a better future.
We call for all talented students – regardless of their current school – private or public and offer them a scholarship which covers all or part of the tuition costs until the completion of their studies.
The challenge we have for them this year is closely connected to the 'new normal' we all started living in and to their determination to create a better future.
In order to submit their registration and to get the chance to benefit from the scholarship, starting with the 2021-2022 Academic Year, students must write an essay titled 'Shape Your Tomorrow' which will be centred on the changes caused this year due to the pandemic. This is in addition to other documents required for registration. The essay will have to address one of the following specific topics:
Share your opinion on how social distancing will reshape the way we interact with each other.
The lessons we learn from overcoming obstacles are fundamental for our growth. Recount one of the most challenging moments from the past year. How did it affect you and what did you learn from overcoming it?
If life before this was 'normal', I don't want to go back. Discuss why humanity needs to do better in the new normal regarding environmental problems, gender equality or systemic racism.
True creativity is not looking outside the box but inside it. Argue for or against the fact that limitations help us think unconventionally.
We are beyond excited to see the world through their eyes and help them make their way towards the bright future they deserve!
You can apply here!
---
Please note that the British School of Bucharest is not responsible for the content on external pages and, as usual, we advise you to monitor your children's online activity.