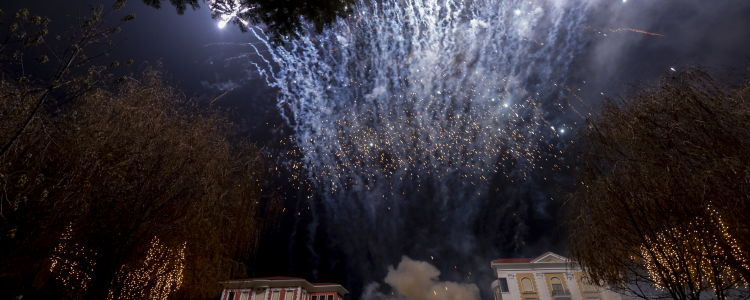 BSB Christmas Fair 2018
Santa was at his best at our Christmas Fair helping to create a magical winter wonderland with a laser show, fireworks, raffle prizes and Christmas carols
We simply love stories and at BSB we write new ones every day with our passion, spirit, spreading of happiness and enjoyment of educational activities. But maybe one of the best stories we can write is at Christmas time when we celebrate and enjoy our fantastic Christmas Fair in our own unique way.
A festive wonderland of magical moments and delights was created again at our event this December. A spectacular atmosphere filled the BSB campus with our school choirs and orchestra singing a selection of Christmas carols and with children and parents enjoying some very unique themed workshops. Then magically, appearing as if from nowhere, Santa arrived in his dream sleigh with perfect timing to join our great community event and to bring joy and Christmas spirit to light up the BSB campus!
The surprises didn't stop here. First, our laser show was a true spectacle for our guests to enjoy! Second, a limitless sky full of fireworks, a captivating and colourful show that will not be soon forgotten. Finally, saving the best for last, lighting up our Christmas campus, another unique moment to complete this stunning BSB Christmas celebration.
What else could we possibly add to this perfect setting, full of lights, dreams and magic? Well of course, happy faces enjoying the moment, discovering surprises and starting their Christmas shopping! The Christmas Fair offered the chance to find quality handcrafted toys, jewellery, interesting books, delicious food and beverages. Creativity found its place in this festive wonderland with many interactive activities and our special raffle prizes – Santa really didn't joke when he said that wishes can come true 🙂
After more than 2 hours full of surprises, happiness, carols and colorful lights, Santa sprinkled some more magical atmosphere onto the BSB campus and left all of us to simply enjoy it, believing in magic and wondering where it all comes from! Ho Ho Ho – It's Christmas time! 🙂
---
Please note that the British School of Bucharest is not responsible for the content on external pages and, as usual, we advise you to monitor your children's online activity.