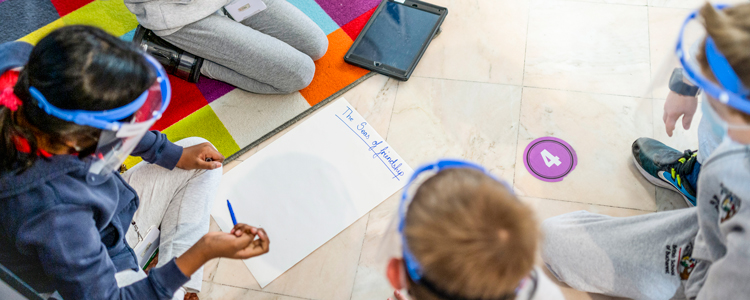 A Celebration of Poetry
Poetry touches and twists our hearts in a way that no other form of writing manages. Today we're celebrating this wonderful expression of love, hope, passion, despair and loss through the verses of our students who competed in this year's COBIS Poetry Competition.
'This has become a regular feature on our calendar and this year there were a record number of entries from our talented Primary students. The competition is held in collaboration with Pobble – an excellent organisation in the UK which publishes children's work online, securely and with parental permission, to a global audience' explained Mrs. Karen Cojocaru, our Class Teacher and Primary English Curriculum Coordinator, who covered the subject in a comprehensive review.
Our budding poets from Primary had to address the theme of 'Connection' in their poems, a subject fit for these socially awkward times. They didn't have limitations regarding their poetry form and they had the liberty to be as creative as possible. Due to the sheer number of outstanding entries, the Primary School leaders had a tough time selecting the three poems submitted to the competition. Congratulations to the three poets and well done to all our students who entered! Now, we're keeping our fingers crossed for the final competition and we're leaving you with the three winning works
The web the place of imagination.
The place for relaxation.
The place of conversation.
I can talk, see and hear you.
What can be better!
Than the memories we shared.
The messages we sent.
The images we shared.
The friends we made.
It's almost like reality.
The embarrassing moments.
The sad moments.
Even the funny ones.
Will all be kept in the digitised hall of our chat history.
And in my heart.
Covid Student 2020, by Denizhan
Google Meeting,
Microphone muting,
Screen presenting,
Work submitting,
My learning!
Screen freezing,
Internet lagging,
Out of meeting,
Connection losing,
My problems!
Mask wearing,
Hand washing,
Social distancing,
No touching,
My protection!
Friends missing,
Family loving,
Boredom living,
School longing,
My feelings!
Covid19 has severed our social bonds,
Through isolation
and death,
it rips us apart.
Nurses and doctors from everywhere,
filled with grim determination
Line up to fight a war with
compassion, medicines and vaccines
Battle by battle to better these circumstances,
striving for a better tomorrow.
Globally,
shop assistants and delivery drivers,
connect us with our daily needs,
whilst teachers work hard to arm the
young and older students with knowledge to equip them for a successful future.
The world is different…
but we have today
and we have hope for tomorrow.
And this unites us.
It is a bond we share,
This connection forms a solid foundation
to build on.
Today is the time, our opportunity, to make a difference.
So, people all over the world
Big and small, come together as one
Respect the rules and
have great gratitude,
salute those
who have risked their lives to save others
in this war against an invisible enemy.
Connecting with each other we can reclaim
a better future.
---
Please note that the British School of Bucharest is not responsible for the content on external pages and, as usual, we advise you to monitor your children's online activity.