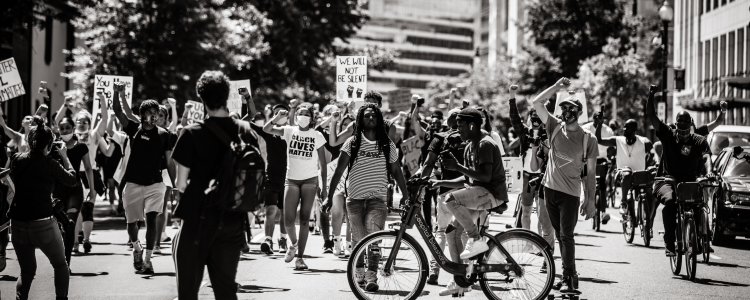 Racism Has No Place in Our Future. What about Yours?
An article written by Briony and Ilinca (Year 10 students), and edited by Daniel (Year 12 student).
As part of the diverse BSB community, we students should be aware, if not involved, in the affairs that bring the oppressed together, to fight for equality and the respect of everybody's human rights. 2020 is a year that has surprised us all, from many points of view, tragedy after tragedy depriving us of the little hope we had left. However, it seems that people around the world have taken the initiative to unite together for a higher purpose; each fighting in different ways. The Black Lives Matter movement is now stronger than ever, and it's a movement that might actually trigger some positive changes in the way that society operates.
Something to Be Aware Of!
The media play a crucial part in modern-day events; a role that is both positive and negative. Media spreads awareness, allows people to communicate and understand present issues better. Still, all of the information available to a viewer can be easily manipulated to the point that someone may feel like they know everything that's going on, despite being skewed by the opinions of authors. Some news stations or accounts will show only one side of the story, while others purposely mislead the public. And if a story isn't shown as a whole, it often doesn't make any sense. The BSB reporting team believes it's essential for students to understand the current situation well enough to make educated decisions on where they stand on the issue. Sadly, decisions and stances made about situations like this one, are often undertaken by people not nearly informed enough about the case at hand.
What's the situation?
During quarantine, many of us have become more familiar with news stations and are more regular in our upkeep with the current happenings of the world. The current situation in America is more shocking than ever. For the few who aren't familiar with the name George Floyd, the case is as follows: A 46-year-old man, raised in Houston, an athlete in High school and working as a security guard and truck driver in his later life, had been arrested for using a counterfeit 20$ bill to buy cigarettes. George Floyd had been arrested and incarcerated before, for mostly drug-related offences, however as he was being arrested, the police officer holding him down crushed his neck to the pavement, as Floyd pleaded with him and chanting "I can't breathe," over and over. As onlookers filmed the scene, they begged the police officer to stop kneeling on the man's neck, the officer refused, only standing up after medical care told him to. He remained knelt on George Floyd's neck for over eight minutes, after five minutes, George Floyd had, according to the coroner's report, already died.
The brutality displayed in the arrest sparked outrage across the world, with far too many stories and reports of police brutality affecting black people being publicised in 2019/20.
The Black Lives Matter movement has gained more momentum than when it first appeared, back in 2013, as a Twitter hashtag after the shooting of 17-year-old Trayvon Martin. After the shooter was acquitted on most counts, the social movement started up and has continued to advocate for racial equality for all, with movies like 'The Hate U Give' and '12 Years a Slave', becoming increasingly popular in the 2010s. Both films shed light on the fight against racial injustice, and we can highly recommend these movies.
So how have people been fighting back against these acts of injustice?
There have been about 450 major protests throughout the USA, with the movement spreading across Europe as well. While some turned violent, with looters (undercovered by the crowds) taking this opportunity to steal from large chain stores, for example; most protests have actually been peaceful and full of constructive support. Countless celebrities take part in them, and Instagram accounts post videos of beautiful moments in which they pay respect for the lives that were lost. And so these protests have succeeded in some states to achieve some results. Some changes in the way the police operate, like banning chokeholds, and police brutality captured on camera leading to the firing of officers. Also, more training is now required to become a police officer.
There are other ways through which so many others support this movement, like online petitions or donations. We highly recommend this to sympathetic people in countries like ours, who are not in the middle of the action, as it is the best way to make our voice heard without endangering anyone's safety.
How are we involved?
As a British international school, residing in a country with international culture and history, the students and classmates we've known for most of our school years are from many different countries, speaking many different languages, and practising many different religions. We celebrate this diversity. We learn modern foreign languages, hold our annual 'Café of cultures' during Language Week, and offer trips to different countries so that students can become more familiar with the international scene. The point is, in the twenty-first century, tragedies like the death of George Floyd shouldn't be happening. We've seen first-hand how racial injustice has no place in the world we want to grow up in, and it certainly isn't welcome in a community like ours here in Bucharest. Sometimes terrible things happen, and as people on the other side of the world, all we can do is offer our experiences, our time, and our support.
Take action here: https://blacklivesmatter.com/petitions/
---
Please note that the British School of Bucharest is not responsible for the content on external pages and, as usual, we advise you to monitor your children's online activity.