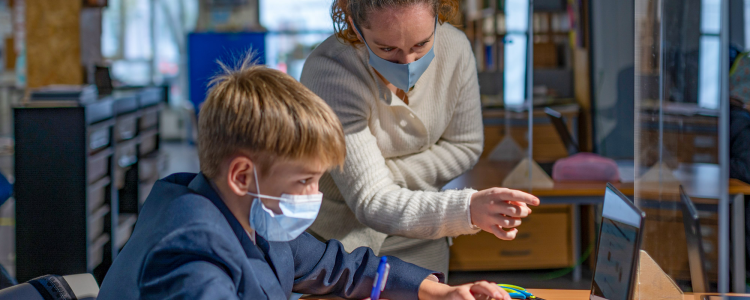 Get to Know Our teachers: Mr. Kennedy and Ms. Mulchrone
Written by Ada and Alexia, BSB Reporters
Edited by Daniel, BSB Reporter
Mr. Kennedy
As some of you might know, Mr. Kennedy is our School's new Drama teacher. Unfortunately, neither of us take Drama, so this interview allowed us to take a closer look into a teacher's life. Firstly, we talked about how he discovered his passion for Drama and why he chose to become a teacher. His choice was based on the fact that he always enjoyed Drama and that it is a subject that gives a person the freedom to express themselves. He specifically highlighted the fact that it allows people to toss their worries aside to explore something new unconditionally. He also shared that his own Drama teacher played a big role in his development. He found it very inspiring that he was also a man, as Drama tends to be a very female dominated area.
Even though his teacher left around Year 9, Mr. Kennedy was already convinced that Drama was what he wanted to pursue in life. Since he always enjoyed working with young people, something that came naturally to him, becoming a teacher was the right path.
That being said, the figures he looks up to most are his own parents, in particular his father, due to the successful career he had to sacrifice so much for. This also inspired Mr. Kennedy to become a teacher, as his father taught him to always try and be his best and help others. That is why he took the opportunity to teach at BSB. Even though he was interviewed in July when Covid-19 was already an issue, he thought it was a fantastic chance to pursue his passion in a new place. In spite of the restrictions, he still decided that moving here could only benefit him. Not only the job opportunity, but also the vast amount of scenery, the history of the cities and the country in general and the fact that it is not in the top search of destinations attracted him to Romania.
We asked about Drama misconceptions that he'd like to correct and he pointed out that Drama isn't about pretending to be a tree, it's very important for a young person's development and awareness of people around them. It's not just about the acting, but it also builds on leadership skills, altogether making Drama a fantastic subject. When asked about what tips he would give students that want to pursue Drama but aren't sure, Mr. Kennedy said, "If it's your passion, you should follow it no matter what. Besides, you will gain public speaking skills, management roles, it makes you more open to do new things, it encourages you to go outside of your comfort zone and teaches you how to adapt to unusual situations".
As some words of encouragement to students in general, he said you should always try to be the best version of yourself, therefore you will never be disappointed and you will never have any regrets or concerns. Don't be afraid of challenging yourself, because if you do that, you always gain something new in the end.
Thank you,Mr. Kennedy for giving us some of your time, welcome to BSB!
Ms. Mulchrone
Ms. Mulchrone is this year's new Psychology teacher, which is a new subject for Year 12. We started our interview by asking her about how she decided to become a teacher. Ms. Mulchrone began by explaining how she discovered that she wanted to teach Psychology during her second year of university. She always found it to be a fascinating subject and she loved the fact that it is very versatile and that throughout her career she would be able to teach different topics within this wonderful subject. She shared that her Philosophy teacher was someone she looked up to and really connected with because they were very similar and since she was quite young her teaching techniques appealed to her. On top of that, she was a family friend and Ms. Mulchrone found out that her teacher was going through a hard time, but she still made class interesting and it wasn't noticeable at all that she was going through a rough period and that also inspired her. Another teacher she connected with was one of her two Psychology teachers.
She also highlighted the fact that her other teacher made this amazing subject seem quite boring and this inspired her to become a teacher so she could help others fall in love with it like her first teacher did. Another one of her role models is Jane Goodall, an English Primatologist and Anthropologist. She spent a lot of her youth observing chimpanzees. Ms. Mulchrone also loved that she helped raise a lot of awareness for the chimpanzees' situation and the fact that at the time there were very few women working in this particular field.
When asked about her decision concerning her move to Romania, she said she decided to move in November, back when COVID-19 wasn't a problem. She chose Romania because she thinks it's a beautiful country with an interesting history. She was also very excited to visit the countryside, since it would contrast the barren landscapes of Vietnam. The definitive reason was motivated by a desire to live closer to her family. Ms. Mulchrone claims the pandemic didn't affect her when adapting to Romania since she was able to familiarise herself to the culture thanks to tourist guides. However, during these past couple of months she had hoped to visit some other cities like Cluj or Timisoara but unfortunately COVID 19 has impacted that and she hasn't got to see those places yet. The language was more accessible than Vietnamese because she took French GCSE and that helps her understand certain words but she is also looking forward to studying Romanian.
Ms. Mulchrone underlined the fact that Psychology is a very versatile subject and it can complement many careers. The only problem with students who major in Psychology is that when they graduate it is hard to find a job so they should have a career in mind beforehand. It is extremely helpful to take it as an A Level, even if it isn't someone's career choice, it can help prepare people for different situations and it provides them with a set of very useful skills.
We asked about Psychology misconceptions that she would like to correct and she was quick to point out that Psychology isn't just about what's wrong with people, it covers so many other areas and it helps us understand human behaviour better. In history, people were afraid of psychologists but psychologists are not mind readers as some are led to believe. Psychology is a very interesting science that benefits everyone. Lastly, as some words to every student at BSB, she encourages everyone to look after themselves and take care of their mental health. She said that we should all be nice to ourselves and be our own best friend.
Thank you for spending some time with us and doing this interview, welcome to BSB Ms. Mulchrone!
---
Please note that the British School of Bucharest is not responsible for the content on external pages and, as usual, we advise you to monitor your children's online activity.