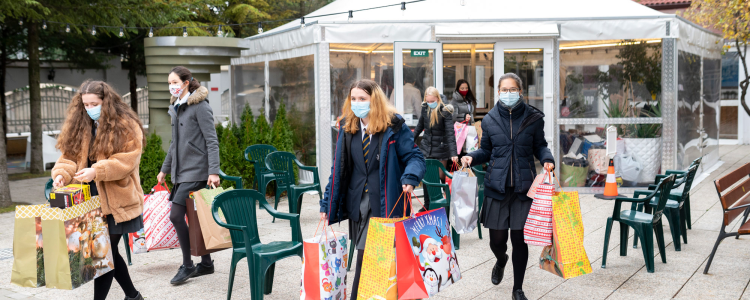 Christmas Gift Appeal
An article written by Yasemin and edited by Daniel
The holidays are rapidly approaching and the BSB community aimed to spread joy to the wider public. Once again, our Charity Committee set up the Gift Appeal, through which students were able to provide gifts for young, less fortunate people from the charities we work with. We have been doing this appeal for many years now, to the point where you could call it a tradition! It's a very special event which allows students, teachers and families to connect with such charities on a personal level.
When buying gifts for a cause as important as this, we considered what the young people might want and need in their lives. This helped us to try and empathise with what they might be going through and perhaps realise how lucky we are to be in a position where we're able to help those in need. We believe that sending gifts rather than money to an appeal creates a more intimate connection between the donor and the young people the gifts are allocated to. That's what makes this appeal such a meaningful and special one.
Now with COVID-19, charities need even more support than before. They're supporting more people than before and so it's getting more challenging to keep up with the needs of everyone they're helping. One charity informed us that the children are talking about Santa not coming this year because of COVID-19 and this reminded us of our purpose and kept us motivated to make sure all the gifts were delivered to the young people in need.
Our charity team came up with various ideas about how to collect and allocate the gifts. They worked carefully with COVID-19 guidelines while ensuring that the gifts got delivered to the young people who needed Santa to visit more than any other year. The team checked and kept track of each gift that arrived to make sure the young people received all that they needed.
This has been a very positive experience for the young people as well as our School community as we worked together to put these gifts together so that everyone could have a happy Christmas. This special tradition will carry on for many more years as we are determined to make the holidays a relaxing and jolly time for a noble cause.
Happy Holidays!
---
Please note that the British School of Bucharest is not responsible for the content on external pages and, as usual, we advise you to monitor your children's online activity.