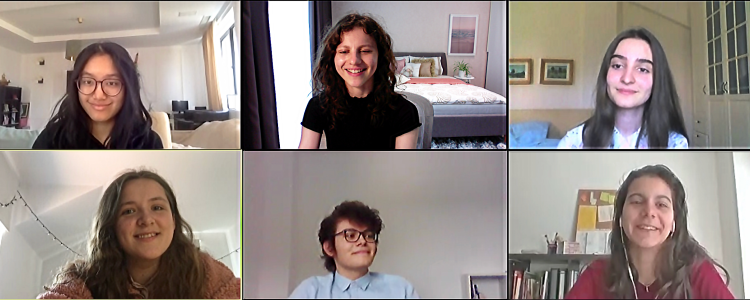 BSB in Quarantine
Written and edited by the BSB Reporters team.
The COVID-19 pandemic has affected all of us in a multitude of ways, one of which is the colossal shift from traditional education to online learning. Schools in Romania have been shut down since 11th March and will not be reopening until, at least, September. As we slowly adjust to this new way of life, we'd like to share with you our experiences and thoughts regarding the current situation. We would also like to introduce BSB's new reporters – Briony and Ilinca from Year 10, along with Daniel from Year 12.
Emilia
The weekend before the school's closure, a few of us attended the LiberatED workshop in the centre of Bucharest. After the session ended, the participants lingered around to carry out further discussions. No one was in a rush to leave that peaceful Saturday afternoon.
Now, such a situation is beyond what I can hope for. A group of strangers in a confined space for a prolonged period sounds like a recipe for disaster, to us today. That day, Bonny and I were a little anxious about the pile of work we had waiting for us back home. Looking back now, this was one of the best decisions we have ever made, because it gave us the opportunity to indulge in our last few days outside.
I feel like togetherness is the only way one can live in Bucharest. While this meant hanging out with our friends back then, it now presents itself in the form of social distancing. Keeping to ourselves when wandering into Mega Image is a symbol of this new togetherness. The more distance we keep between one another, the more control we have over the spread of this virus.
I wonder if in a post-Covid-19 world we would still be so bold to shake hands or embrace in public, just like that Saturday afternoon wandering the little streets of Bucharest, expressing our joy with laughter. Those moments of closeness, when the city's tapestry of different cultures, languages and skin tones are moulded into a special kinship, are truly priceless. However, until then, we must grow accustomed to those feelings of claustrophobia and intangible social connections.
We all have the same wishes, but for once those wishes are no longer realistic. Let's be grateful for being healthy and safe, and continue to support each other, for however long this tragedy continues.
Briony
Going into this new normality; routine is something most of us yearn for. Completely isolated from our family and friends, having to quickly adjust to the new online lessons, and cutting our bangs in fits of madness… There will most definitely be challenges around every corner considering these circumstances and being quarantined for three straight months.
As a school, the online system was completely alien to us. Things seem to be improving as every google meet becomes more and more helpful. As the Easter holidays ended, and our timetable was updated, contacting teachers and peers became easy and stress-free. Teachers became more attuned to the amount of work they needed to set, and we students became more accustomed to communicating on online platforms. The continued communication between teachers and students, and the willingness to help and improve, in my opinion, is what has made this system work.
Unfortunately, many of us have had to endure the quarantine during our GCSE and A Level years, unlike many younger students that are simply missing friends and experiencing more laid-back schooling during the pandemic. Many of us have had opportunities postponed and exams being moved forward to later dates.
Even so, this is a time for compromise, a time for cooperation, and for all of us to come to a conclusion regarding what we can do to make the most of the current circumstances. Take up baking, sign up for online art classes or take a stroll in your local park. Don't let studying consume you, and remind yourself to take a break.
Ilinca
It's important to understand that these are hard times for all of us. This break from society took us completely by surprise. I was not prepared to give up on the familiarity of our previous life, to abandon all I had known at school. Unable to see my friends daily, as I had done for the past few years. However, what I feared most was the potential inability to cope with having so much time on my hands, so much unoccupied space in my restless mind, and to be overtaken by this pressure I had placed upon myself.
And I wonder why that is so? I always used to complain about how there's never enough time, but now we finally have the opportunity to do everything we couldn't manage before… This quarantine is commonly viewed as a gift that you should make the best of; a chance to improve yourself on a professional, physical or personal level. That's absolutely great, but really it's easier said than done, because it requires so much willpower to decide not to watch movies in bed all day; when it's the easier and more comfortable choice.
At first, it was hard for me to overcome this vicious cycle, in which I stressed myself out for not being productive enough, and by the end of each day, I grew unhappier with myself. It wasn't until I came to a certain realisation that I succeeded in getting on a better track. Not everyone is meant to be doing daily workouts, and I certainly learnt that I for one, am not. Instead, I can take long walks around my neighbourhood or play table tennis in my backyard. And not everybody can enjoy themselves while reading books all afternoon, but it turns out I can, so that's awesome. The point is, we all need to find the exact activities that make us happy.
Laura
I don't think I was able to wrap my mind around how much the global pandemic quarantine was going to affect my day-to-day life from the start. The transition did seem strange; even though the prospect of an entirely different school experience was quickly welcomed, the thrill of it dissipated just as fast.
My 'you're preparing for the one exam that will dictate the rest of your life' mentality, had entered a state of complete paralysis – all of the AS examinations were cancelled; I now had to abandon all Year 12 material, only to welcome on board Year 13 content.
Personally, the transition was even more complex than that. Debating has been cancelled for this term and the quarantine makes it impossible to train for any team sports. Instead, I've had to go through admission processes for online Model United Nations conferences and summer programs, despite the horrendous internet connectivity fluctuations.
I might not be able to discuss political affairs with my debating team, however, I have been able to focus my reading and research into dissertations and submit them to essay competitions all over the world. I might no longer be able to meet with my team of journalists; however, platforms such as Google Docs and Canvas allow team-building and collective writing.
Ironically, it all concluded with a moment of sudden realisation. Only when I found out that my sister's piano competition was being held via a Zoom meeting, was I able to comprehend that not much had changed. We might be spending more time at home and less time changing surroundings, however, we have all found ways in which to adapt.
We've managed to deal with the current crisis and at the same time continue pursuing our passions. At the end of the day, we're all in this together – be it face to face, or screen to screen.
Final thoughts
We extend a warm hello to our readers, students, parents and teachers – even through such a challenging time. Perhaps we've shared some thoughts that have made you feel less alone and anxious, if anything, a little less afraid to ask for help when needed. Luckily, we are surrounded by a kind, empathetic community that has been together with us from the very beginning, and will continue to support us. We wish you well, and again, thank you for everything.
June 2020
---
Please note that the British School of Bucharest is not responsible for the content on external pages and, as usual, we advise you to monitor your children's online activity.