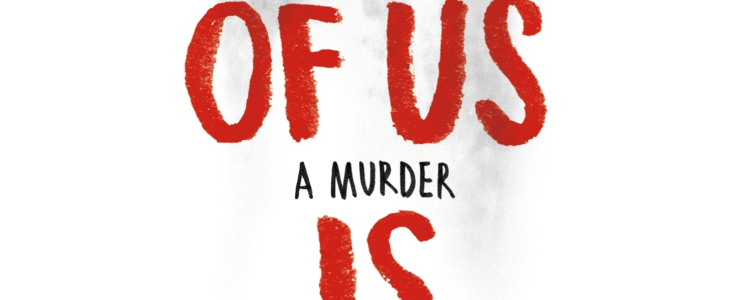 A Truly Addictive Book with Phenomenal Writing
One of Us is Lying, Book Review written by Vedangini and edited by Daniel
Author – Karen M. McManus
Genre – Mystery
Book Type – Fiction
Everyone has secrets, and high school students have some deadly ones. The question is, how far will they go to silence the people who know?
As four students of different cliques, Nate, Bronwyn, Addie and Cooper enter the detention room, a series of events result in the death of Simon – the founder of the school's most popular online gossip site 'About That'. It's not an accident. It's murder.
Investigations start, and secrets unravel. The four living students all become suspects as the police realise that Simon had a scoop on them – items that would destroy their lives.
McManus does an amazing job with the execution of the book. Her writing causes us to go on a personal journey with the four students as they navigate their lives after the death. Friendships are made, relationships are broken, and tension is ever rising. Every decision, every conversation, every move these students make will have consequences, and as these consequences unfold, we as readers, have our own theories as to who the real killer is. Even though we might have our own suspicions as to how the plot is going to unfold, the way McManus ties everything together in the end is greatly interesting.
McManus took typical high school stereotypes and embedded them into her character's personalities while giving them so much more than just that. She shows how people are not always what they seem or what other people make them out to be, for good or bad. In my opinion, writing a murder mystery in the setting of a normal high school is very predictable, and difficult as well. To do something really shocking and out of the ordinary in such an ordinary setting takes a lot of talent and precision and McManus does a wonderful job with it.
However, be aware that all great reads are not without their flaws. The wild switching of narratives and characters can sometimes get confusing, as they are introduced too early on, not allowing us time to understand the characters. Secondly, the romantic plot introduced down the middle of the book got a little tedious as I personally prefer action.
Although these two things are a downside, the general vibe and feel of the story as it reaches the penultimate chapter is intense and I couldn't help but feel that putting the book down while reading it would be a crime.
A truly addictive book with phenomenal writing, it will leave you guessing till the last minute. Karen M. McManus writes it in such a way that just when you think you've got it; something happens that makes you question everything. I'd definitely recommend this book to anyone who loves a good old murder mystery with a little bit of fun and drama.
---
Please note that the British School of Bucharest is not responsible for the content on external pages and, as usual, we advise you to monitor your children's online activity.