WINTER FAIR 2022
Dear BSB Community,
Santa Claus is on his way to the BSB Campus, and our recurring community-oriented event, Winter Fair, opens its doors. Register here and join us on our campus on Friday, 9th December 2022, and enjoy the festive vibe.
Make sure to meet the world-famous Santa, who puts on a show and checks everyone's lists. The children have the opportunity to take a photo and create a lifetime memory in Santa's Photo Booth. Of course, the Grinch will also want to make an appearance, and the entire BSB Community needs to be tamed. You will find him across from Santa's Grotto.
Santa's Show
We aim to provide the most memorable experience during the Winter Fair, with numerous artistic moments and live music which will take place in Santa's Show (Marquee). The students and the music department had lots of hours of rehearsal to create an unforgettable show. We will also have a special guest who will enchant you with traditional Romanian music.
Food & Drinks
The school's official caterer, Takanaka, will satisfy your taste buds with delicious food. Enjoy the taste of a festive meal, delicious desserts, mulled wine/non-alcoholic mulled wine, and hot chocolate that will bring us together - we tell you, do not miss it. Order your tokens via theParent's portal. Food will be available in Santa's Show tent, Santa's Factory tent and Takanaka food truck.
Please be informed that you can buy tokens for our Winter Fair starting on 18th November from the Parents' Portal and can be claimed from 21st November from our Uniform, book & gift shop (Monday to Friday, from 8:00 – 11:00 and 13:00 – 17:00). No cash will be accepted on the day to minimise queues.
 *Tokens are non-refundable and can be used only for this year's Winter Fair.
Santa's Factory
During the Winter Fair, activities and arts & crafts workshops will be available for children in Santa's Factory (Takanaka Dining Hall). Choose your preferred activity and register now on SchoolBuddy. You will have to sign up in advance. No bookings can be made on the day. Hurry! There are limited places available.
Santa's Shop
A place where you can find an exciting selection of local artisans offering a variety of creative and unique ideas to make your shopping experience easy. You can find many wonderful items, from toys, handmade Christmas ornaments, flower arrangements, decorations, jewellery and cosmetics. All of them will be in Santa's Shop (Football Pitch Tent).
Santa's Party
NUPEH will be the headquarters for Santa's Party this year. You will be able to create unforgettable memories with your loved ones and take the video home with you. Your musical talent might want to come out, so we have prepared a karaoke machine. But, we have one rule for everyone that wants to come inside - you have to wear a Christmas-inspired costume. Registrations can be made on SchoolBuddy.
Event programme
All the elements for an enjoyable day out for you and your family are back together, so be there!
Please register for the Winter Fair by Monday, 5th December, on the Parents' Portal. 
See below the Winter Fair Map.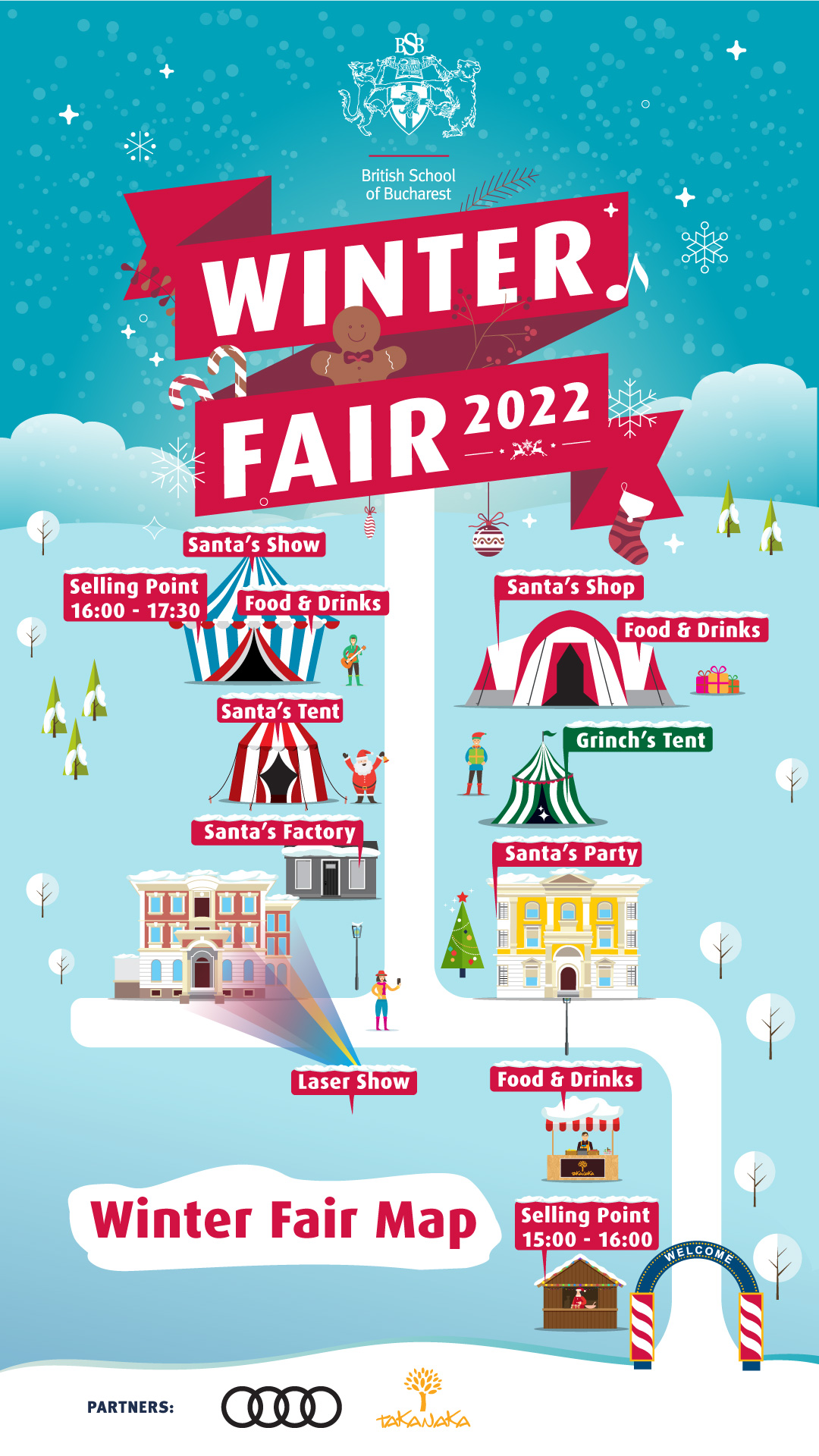 ---
Please note that the British School of Bucharest is not responsible for the content on these external pages and, as usual, we advise you to monitor your children's online activity.